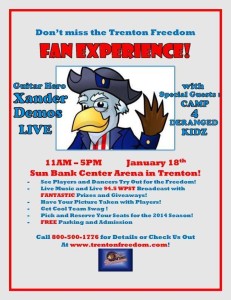 MTS Management Group is happy to announce that metal guitar virtuoso, Xander Demos will be performing at the Trenton Freedom "Fan Experience" on January 18, 2014. The free event will be held at Sun Bank Center Arena, located at 81 Hamilton Avenue in Trenton, New Jersey, from 11am-5pm. In addition to watching Xander's guitar pyrotechnics, fans can get photos with Freedom players, watch live tryouts and purchase their season tickets. Also performing will be Camp 4 Deranged Kidz. The event is being organized with help from Brian "Fishman" Fish, host of the Heavy Metal Happy Hour. For more information on the Trenton Freedom and the Fan Experience, visit http://www.trentonfreedom.com.
The following week, Xander will be heading to West Hollywood, California, for the NAMM Convention, and in particular, his 2nd appearance at the NAMM Metal Jam. That event is being held on January 22, 2014 at the Whisky A Go-Go located at 8901 Sunset Boulevard. Doors open at 5pm. Headliners for NAMM Metal Jam include Michael Angelo Batio with Deathriders, featuring Neil Turbin (original Anthrax singer.) Others scheduled to appear are members/former members of Dio, Whitesnake, Hurricane, Yngwie Malmsteen's Rising Force, Iron Maidens, Circle II Circle and many more. Tickets are $12, and they are available on Ticketweb.com.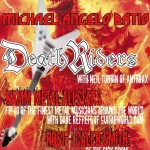 Xander Demos is best known for his work with Sabbath Judas Sabbath and his solo band, XDB. Xander has performed with or recorded with Ged Rylands' Rage of Angels, Modern Superstar, James Rivera, Liberty 'n' Justice and others. His current single, "Dancing Through Daggers" was mixed by J.K. Northrup of King Kobra/XYZ fame. Xander is endorsed with many top guitar manufacturers, including McNaught, who craft the XD signature model guitars. For more information, visit www.xanderdemos.com.