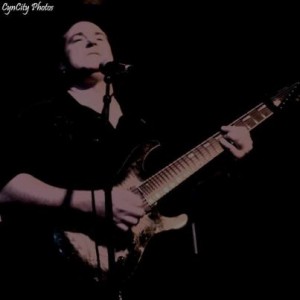 MTS Management Group and Xander Demos are happy to announce that Xander has signed with Lucky 13 Agency, who will book dates for his upcoming 2013 Tour. The tour will be his first, since signing with Rock 'N' Growl Records and releasing his debut album, "Guitarcadia." The first leg of the tour will take him throughout the US mid-atlantic region. The tour is scheduled to last from February thru April 2013. Dates have already been booked in February for White Marsh, MD and Altoona, PA.
"We're stoked to get Xander out on the road to support this record," says Michael Stover of MTS, Xander's management. "He's been polishing his show supporting acts like Symphony X, Adrenaline Mob, Dio Disciples, Buckethead and others, here in Pittsburgh. Now, he's ready to take that show on the road."
Xander also secured an artist endorsement deal with Rock-n-Roll GangStar Apparel, who will provide stage wear for Xander, while on tour. "Their clothing is incredible," says Xander. "It's got that attitude and bravado that I'm looking for in a clothing line. It makes you feel like a rock star before you even step on stage. I look forward to rockin' it during every show."
Based in Marion, OH, Lucky 13 Agency is a full service booking agency featuring regional & national artists. Recent artists and tours have included Unsaid Fate, Zeroking, and Primer 55.
Rock-N-Roll Gangstar is a Rock-n-Roll Inspired Apparel company from Redondo Beach/Los Angeles California, with a vintage-Modern Rock & Metal vibe. Acts wearing their clothing include Ozzy Osbourne, Scorpions, Firehouse, Skid Row, Warrant, Puddle of Mudd, Lynyrd Skynyrd, Lacuna Coil and many others. For more information, visit Rocknrollgangstar.com.
Xander Demos is signed to Rock 'N' Growl Records for worldwide digital distribution. His debut album was mixed by Cj Snare, lead singer of the band, Firehouse. Xander has endorsements with Suhr and McNaught guitars, creators of the XD727 Xander Demos Signature guitar, Matrix Amps, Fractal Audio Systems, Mission Pedals, Floyd Rose Tremelos and others. For more information, visit XanderDemos.com.