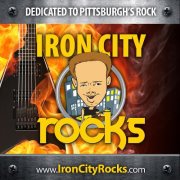 MTS Management Group is proud to announce that metal guitarist, Xander Demos has been nominated in five categories at the 2012 Iron City Rocks Pittsburgh Music Awards: Best Guitarist, Best Metal Band, Best Progressive Band, Best Album "Guitarcadia," and Best Song "Under A Darkened Sky." This is the second consecutive year that Xander has been nominated for Best Guitarist.

Xander's bandmates were also nominated in their respective categories: Mario Brescia (vocals,) Adam Heusey (keyboards,) and Jeff Anzelone (drums.) Nominations were based on fan votes, with one vote per email address being allowed. Similar voting rules apply to selecting the final winners, which will be announced sometime in January. Fans may cast their vote at http://www.facebook.com/ironcityrocks/app_190322544333196.
Xander's album, "Guitarcadia" was mixed by Cj Snare, lead vocalist for the bands, Firehouse and Rubicon Cross. It was released digitally in August by German-based Rock 'N' Growl Records. "Under A Darkened Sky" is an 8 minute-plus vocal track on the album, cowritten by Demos and Kevin Rasl, who sings lead on the album version.
Iron City Rocks is a podcast from the "Iron City" of Pittsburgh, Pennsylvania that brings you the biggest and best interviews in Metal, Rock and Blues. For more information, visit http://www.ironcityrocks.com.
Xander Demos is a shred metal guitarist based in Pittsburgh, PA. In addition to fronting his own band, he is a member of James Rivera's Sabbath Judas Sabbath (US east coast. He has opened for Symphony X, Buckethead, Adrenaline Mob, Uli Jon Roth, Dio Disciples, Lizzy Borden and others. He will begin his first solo tour in February 2013. For more information, visit http://www.xanderdemos.com.