Whiskey and Cigarettes Country Radio Show is happy to announce the airing of their exclusive return interview with Featured Artist, Leslie Ann.  Leslie joined award-winning host, Nik Bernitz Pizzigoni, to discuss her burgeoning career, including her debut single, "Dream Is You."
The interview with Leslie Ann will air this coming Sunday, December 23rd, 2018 between 11am ET-3pm ET. The live show airs on Military Brotherhood Radio at http://www.militarybrotherhoodradio.com. Whiskey And Cigarettes is also re-broadcast on 27 internet and am/fm syndicate stations, and their affiliates around the world.  The show is also available on demand, on Soundcloud and at www.whiskeyandcigarettesshow.com.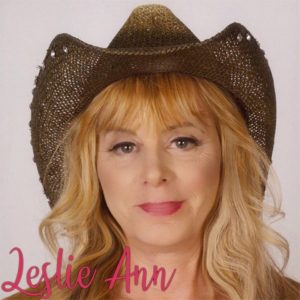 Leslie Ann grew up in the small town of Wayzata, Minnesota, a small town west of Minneapolis, in a modest home on one of Minnesota's many lakes. She's always enjoye
d fishing and being what she calls "a regular country girl." Leslie couldn't help but get involved in music—her husband is a renowned musician (Lefroy) and her son took to music at an early age as well, and the near-constant presence of music in her family made her want to add her unique voice as well. "I have so many influences—starting with the 60's and 70's sound, but I love country and rock ballads too," she explains.

Currently living in California, Leslie loves to spend time on her ranch with her horses. She is a true animal advocate, having assisted on numerous animal rescue projects. Leslie also runs a Facebook page with her Yorkie Liddleman called "Liddleman's World," which was the result of a trying time in her life. She had moved back to Minnesota for two years to help her father through Alzheimer's and dementia, and started the page as an upbeat and optimistic outlet. It continues to gain in popularity, and Leslie would love for everybody to follow that too!  https://www.facebook.com/pg/LeslieAnnMusicArtist.
"Whiskey And Cigarettes Radio Show" is a weekly show, originating in Milan, Italy, hosted by the "Romeo of the Rodeo" Nik Pizzigoni.  Nik is a Nashville Universe Awards Winner, International Music and Entertainment Association Award Winner, a New Music Awards Winner, AMG Heritage Awards nominee,  and an Independent Country Music Association nominee. The show features a unique blend of classic, current and indie country, trivia, contests, artist spotlights and interviews and Nik's European charm. Previous guests have included Charley Pride, Hank Williams, Jr., Charlie Daniels, Steve Wariner, John Rich, Oak Ridge Boys, Lorrie Morgan, Bill Anderson, Luke Bryan, Bryan White, Travis Tritt, Lee Greenwood, Collin Raye and many others.  www.whiskeyandcigarettesshow.com.