Whiskey and Cigarettes Country Radio Show is happy to announce the airing of their exclusive interview with Featured Artist, KatieBeth.  KatieBeth joined award-winning host, Nik Bernitz Pizzigoni, to discuss her burgeoning career, including her latest single, "Will I Ever Get to Love You."
The interview with KatieBeth will air this coming Sunday, December 9th, 2018 between 11am ET-3pm ET. The live show airs on Military Brotherhood Radio at http://www.militarybrotherhoodradio.com. Whiskey And Cigarettes is also re-broadcast on 27 internet and am/fm syndicate stations, and their affiliates around the world.  The show is also available on demand, on Soundcloud and at www.whiskeyandcigarettesshow.com.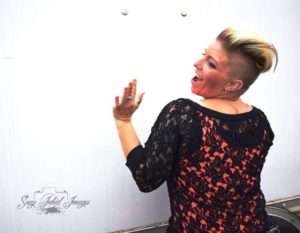 Since 2004 KatieBeth has been rocking it out in WI, and TN. With a voice born in rock and roll and stained by whiskey, her powerful energy on stage and raw vocal talent is blazing a trail in the music world. Every KatieBeth performance is like a musical autobiography of KatieBeth the person. Start with her voice, a blend of rock and country. A style that pulls equally from her Wisconsin roots and her Tennessee years. And then listen to her songs. The lyrics tell stories of heartbreak, redemption, and hope. With every verse and chorus KatieBeth unleashes the raw, uncensored emotion of someone who has learned life's lessons the hard way. But behind her amazing vocal range, and beneath her "take-me-as-I-am attitude," lies an alluring vulnerability. KatieBeth is just as willing to love as she is to kick ass. This contrast—this paradox—is who she is. And because of this, she connects with her audience.  For more information, please visit https://www.katiebeth.net.
"Whiskey And Cigarettes Radio Show" is a weekly show, originating in Milan, Italy, hosted by the "Romeo of the Rodeo" Nik Pizzigoni.  Nik is a Nashville Universe Awards Winner, International Music and Entertainment Association Award Winner, a New Music Awards Winner, AMG Heritage Awards nominee,  and an Independent Country Music Association nominee. The show features a unique blend of classic, current and indie country, trivia, contests, artist spotlights and interviews and Nik's European charm. Previous guests have included Charley Pride, Hank Williams, Jr., Charlie Daniels, Steve Wariner, John Rich, Oak Ridge Boys, Lorrie Morgan, Bill Anderson, Luke Bryan, Bryan White, Travis Tritt, Lee Greenwood, Collin Raye and many others.  www.whiskeyandcigarettesshow.com.