Whiskey and Cigarettes Country Radio Show is happy to announce the airing of their exclusive interview with two members of country music royalty: Charlie Rich, Jr. son of the Silver Fox, Charlie Rich) and Johnny Phillips (son of Sun Records' Sam Phillips.) Charlie and Johnny joined award-winning host, DJ Nik Bernitz Pizzigoni, to talk about their new album project, Feel Like Going Home: The Songs of Charlie Rich.

The interview with Charlie Rich, Jr. and Johnny Phillips will air this coming Sunday, December 11th, 2016 between 11am ET-3pm ET. The live show airs on Military Brotherhood Radio at http://www.militarybrotherhoodradio.com. Whiskey And Cigarettes is also re-broadcast on internet and am/fm syndicate  stations, and their affiliates around the world.  The show is also available on demand, on Soundcloud and at www.whiskeyandcigarettesshow.com.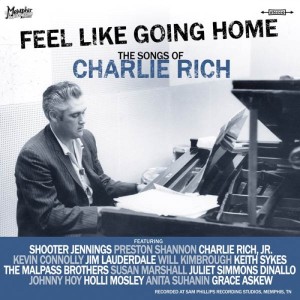 Charlie Rich, one of the most successful country-pop crossover acts of the early Seventies with hits that included "A Very Special Love Song" and "The Most Beautiful Girl," had a recording and performing career more than a decade before those genre-bending tunes earned him numerous awards. But until now, much of his output from the early Sixties has remained relatively obscure. Rich will get his due this fall with the October 14th release of Feel Like Going Home, a tribute disc featuring performances of Rich tunes from Jim Lauderdale, Shooter Jennings, Will Kimbrough, Keith Sykes, Charlie Rich Jr. and more.  For more information, please visit http://memphisinternational.com/feel-like-going-home-the-songs-of-charlie-rich.html.
"Whiskey And Cigarettes Radio Show" is a weekly show, originating in Milan, Italy, hosted by the "Romeo of the Rodeo" Nik Pizzigoni.  Nik is a Nashville Universe Awards Winner, International Music and Entertainment Association Award Winner, a New Music Awards Winner, AMG Heritage Awards nominee,  and an Independent Country Music Association nominee. The show features a unique blend of classic, current and indie country, trivia, contests, artist spotlights and interviews and Nik's European charm. Previous guests have included Charley Pride, Hank Williams, Jr., Charlie Daniels, Steve Wariner, John Rich, Oak Ridge Boys, Lorrie Morgan, Bill Anderson, David Ball, Bryan White, Doug Stone, Lee Greenwood, Collin Raye and many others.  www.whiskeyandcigarettesshow.com.