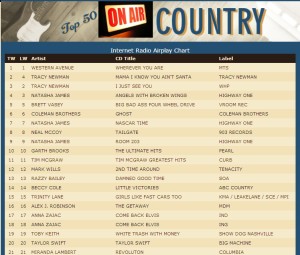 We would like to congratulate Canadian country trio, Western Avenue on their FIFTH week at #1! "Wherever You Are" has topped the Roots Music Report Pop Country Chart (internet) from weekending November 1-29. The single, written by band member, Nikki English (Robertson) and songwriter, Dave Woods is from Western Avenue's debut self-titled release. Other artists on the chart include Taylor Swift, Miranda Lambert, Kellie Pickler, and Carrie Underwood.
Western Avenue is Keith Robertson, Nikki English (Robertson) and Matt Williams. Hailing from Ontario, Canada, they are a 2013 Country Music Association of Ontario award nominee and a two-time International Music and Entertainment Association award nominee. "Wherever You Are" is their first US single release. For more information, visit www.westernavenue.ca.
Roots Music Report compiles radio airplay data reported by radio station DJ's, Music Directors and Program Directors around the globe that play all forms of roots music, so that each week you can see which independent artists are being played the most on these stations. For more information, visit www.rootsmusicreport.com.