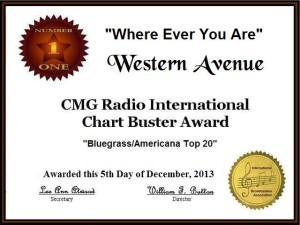 MTS Management Group/MTS Records would like to congratulate their artist, Western Avenue on their International Broadcasters Association Americana chart Number One single, "Wherever You Are." The song, written by band member, Nikki English and songwriter, Dave Woods, bested tracks by Rhonda Vincent, Billy Bragg, Jiggley Jones and others to reach the apex of the Top 20 chart. The single is currently enjoying its fifth week at #1 on the Roots Music Report Pop Country chart for internet play. It is also climbing the New Music Weekly (#26) and Music Row (#102) charts, as well.
"I've said it before, and I'll say it again…we're just so proud of Western Avenue," said Michael Stover of MTS. "The reaction to this record has been phenomenal. The reviews have been terrific, all around, and radio has really embraced this new act. This single has been a real breakthrough for them, and I can't wait to see what else lies ahead for these three talented people. I'm thrilled to have them here at MTS."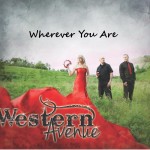 Western Avenue is Nikki English (Robertson,) Keith Robertson and Matt Williams. Based in Ontario, Canada, they are a 2013 Ontario Country Music Association award nominee and a 2013 International Music and Entertainment Association award nominee. Their self-titled debut album was released in February of 2013. "Wherever You Are" is their debut US single.