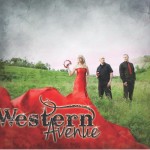 Congratulations to Canadian country trio, Western Avenue, on their very first New Music Weekly Top 10 single, "Wherever You Are." The band climbed four spots to land at #10 with their debut US radio release. With your requests, it could make it to the Top 5!
10 WESTERN AVENUE – Wherever You Are (WA/MTS)
11 SINS COUNTRY – Muscadine (Ind)
12 JOHN MAINES JR – Bad Bad News (Endless Love)
13 COLE SWINDELL – Chillin' It (Warner Music Nashville)
14 STEVEN GRAVES – Let It Ride (One Essence Music)
In other NMW news, fellow Canuck, Amy Rose climbed 5 spots to #25, with "Sunshine." Her first two NMW singles reached the Top 10.
25 AMY ROSE – Sunshine (Wild Rose Music/MTS)
26 MATT FARRIS – Resident Redneck (Skytone)
27 SUMMER SCHAPPELL – It's Working (615)
28 SAMMY HAKIM – Get A Little Closer (Lamon)
29 LITTLE BIG TOWN – Sober (Capitol Nashville)
Finally, Josey Milner's new one, "Cowgirls" is kicking up some dust, climbing 8 spots to #59. This track is smokin' hot!
59 Josey Milner – Cowgirls (MTS)
60 Brett Eldredge – Beat Of The Music (Atlantic Nashville)
61 Kacey Musgraves – Follow Your Arrow (Mercury Nashville)
62 Tyler Farr – Whiskey In My Water (Columbia Nashville)
63 Billy White Jr – Another Day In Love (Ayemaydah)
Please keep your requests going to country radio everywhere, for all three artists!!!