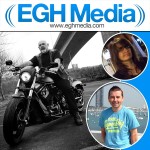 We're happy to announce that our artists are taking over the EGH Media airwaves, all this week! Here's the schedule and links. Click the artist's name to visit the LIVE interview link:
THURSDAY, DECEMBER 12TH AT 11AM ET: AMY ROSE
FRIDAY, DECEMBER 13TH AT 2PM ET: JIGGLEY JONES
SATURDAY, DECEMBER 14TH AT 6AM ET: JOSEY MILNER
EGH Media incorporates many different shows ranging from the paranormal through to sport. Join us for entertaining, informative and fun shows!! For more information, visit www.eghmedia.com.