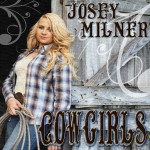 Josey Milner was recently interviewed by Music Junkie Press, and here's what they had to say: "Josey's debut single, 'Not Pretty Enough' had the country world taking a serious look at her talent…. Josey has recently released her new single, 'Cowgirls' and it is definitely a crowd pleaser!" Here's an excerpt from their conversation:
Music Junkie Press: How old were you when you first started performing?
Josey: I've been singing ever since I could talk. As far as performing with a band, I started when I was about 15 years old.
Music Junkie Press: Your song Cowgirls is really getting a lot of great attention. Can you tell me a little bit about that song?
Josey: This song is completely different from my song "Not Pretty Enough". It's fun, upbeat, and I can really relate to it. I worked with the same studio as I did with my last single and I had some pretty impressive musicians. The fiddle player has played for Dolly Parton, Garth Brooks and Reba, and the steel guitar player has played for Jason Aldean, Randy Travis and Tanya Tucker. This song was so much fun to record and the final product was amazing.
Read the entire interview on the MUSIC JUNKIE PRESS WEBSITE.