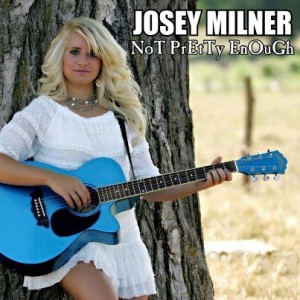 MTS Management Group and teen country music artist, Josey Milner are proud to announce Josey's partnership with national anti-bullying charity, Angels & Doves. 17-year-old Josey will act in a spokesperson and ambassador role for the non-profit organization, helping to raise both awareness and donations for their cause. Angels & Doves will maintain a presence at Josey's live performances, with exclusive T-shirt designs and copies of their interactive handbook, "The Bully Book."
Plans for the year-long campaign include fundraising concerts with Josey and Saving Abel, the national band spokesperson for Angels & Doves, speaking engagements at schools, and appearances at anti-bullying events.
"We are so excited to have Josey on board with such a wonderful organization as Angels & Doves," says Josey's manager, Michael Stover of MTS Management Group. "Josey is so passionate about the anti-bullying cause. In fact, the original plan was for her to start her own campaign with the release of her single, "Not Pretty Enough." When the partnership with Angels & Doves presented itself, it was a no-brainer. It was the perfect vehicle to take Josey's message to the masses. We are very grateful to Kim Harvey, their Executive Director, for welcoming Josey with open arms."
Angels & Doves, headquartered in Indianapolis, Indiana, is a nationwide anti-bullying program that speaks to students, parents and staff members coast to coast. Their mission includes, to speak at every grade, middle and high school nationwide and to introduce "The Bully Book"© to every child in need, and to educate ALL staff members including but not limited to: teachers, principals, all school administrators, coaches, counselors, school nurses, school bus drivers, police departments, parents and our adult community leaders. The non-profit has gained national exposure on The Ellen Degeneres Show. For more information, visit http://www.AngelsandDoves.com.
Josey Milner is a country music artist based in Kansas City, MO. Her latest single, "Not Pretty Enough" was released last week, and it debuted at #11 on the itunes New Country Releases chart. A radio promotional tour will kick off in January. Josey is also signed with Creative Community Artists for state fair and festival bookings. For more information, visit http://www.JoseyMilner.com.