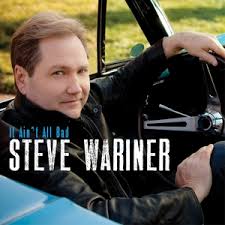 MTS Management Group and Whiskey And Cigarettes Country Radio Show are pleased to announce the airing of DJ Nik Pizzigoni's interview with country music superstar, Steve Wariner. Mr. Wariner is promoting his current album, It Ain't All Bad. The exclusive interview will premiere this coming Sunday, November 10, 2013 between 11am ET-3pm ET. The live show airs on Military Brotherhood Radio at http://www.militarybrotherhoodradio.com and on WDMU Radio at http://www.wdmuinternetradio.com. Whiskey And Cigarettes is also re-broadcast on 37 syndicating stations, worldwide, multiple times throughout the week. The interview will also appear on the December edition of the brand new "Whiskey and Conversations" talk show, which will be available on iheartradio.
Steve Wariner has charted more than fifty singles on the Billboard country singles charts, including ten Number One hits. He has also penned Number One singles for Clint Black and Garth Brooks. Three of his studio albums have been certified Gold by the RIAA, for shipping 500,000 units in the United States. Mr. Wariner is a 4-time Grammy Award winner, a member of the Grand Ole Opry and an inductee to the Music City Walk of Fame. For more information, visit http://www.stevewariner.com.
Whiskey And Cigarettes Radio Show is a weekly show, originating in Milan, Italy, hosted by the "Romeo of the Rodeo" Nik Pizzigoni. The show features a unique blend of classic, current and indie country, trivia, contests, artist spotlights and interviews and Nik's European charm. http://www.whiskeyandcigarettesshow.com.