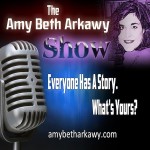 This Friday, November 15th at 12noon ET, Matt Williams, from Canadian pop-country act, WESTERN AVENUE will be the guest on the Amy Beth Arkawy Show. Join Matt and Ms. Arkawy, as they discuss Western Avenue's first US single, "Wherever You Are," now playing on country radio everywhere! Hear the broadcast LIVE at http://www.blogtalkradio.com/amybetharkawyshow. You can call in and speak with Matt, during the show, at (347) 857-4505.
Western Avenue is also featured on the latest "Get Behind Me, Now Stay There" podcast. Check out host Edward Stanton and his conversation with the band at http://www.justimagineitink.com/this-just-in-blog.html. It's also available on itunes.
Everyone has a story. What's yours? Join radio host,.author and creativity coach Amy Beth Arkawy for compelling conversations with noted & emerging voices in the arts & pop culture. Listeners are invited to call in & add to the mix of cultural commentary & inspirational advice.. For more information, visit http://amybetharkawy.com/.
"Get Behind Me, Now Stay There" is Arts and Entertainment News Interviews with Authors, Artists , Musicians or Maybe Just The Guy Down The Street.