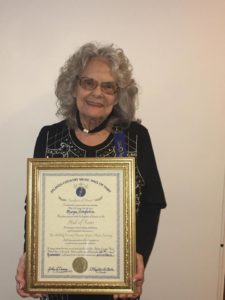 Legendary country singer-songwriter, Margie Singleton was a pioneer at the forefront of country music in the 1950s and '60s. During her career, Margie recorded a total of 9 Top 40 Billboard country singles, including her biggest hit, "Keeping Up With the Joneses," a Top 5 hit with Faron Young. Margie's hit, "Old Records" was a Top 10 smash on Cashbox and Record World, two of the most influential charts of the day. She was the first female artist to record a full album with George Jones, 14 tracks in all, including two of Margie's original songs, and she worked with The Jordanaires, as a background singer.
In 1967, Margie's husband, Leon Ashley had a #1 Billboard Country hit, "Laura," a song they penned together. Margie's songs have been covered by fellow legends like Charley Pride, Tom Jones, Kenny Rogers, Tammy Wynette, and many others.
Now, in recognition of her career achievements and influence on country music in Atlanta, and across the state of Georgia, Margie Singleton has been inducted into the Atlanta Country Music Hall of Fame.  Margie joins her late husband, Leon Ashley, Alan Jackson, Bobby G. Rice, Mac Wiseman, Bobby Lewis, and many other legendary acts, in the ACMHF.
"I'm so honored and thankful to be recognized," said Margie, as she accepted her induction, among family and friends.  Her son, Sidney Singleton and stepson, Leon Ashley, Jr. were in attendance, to support her.
At 82 years old, Margie's latest single and video for "Jesus Is My Pusher" have received national and international airplay.  The song is currently charting on the IndieWorld Country Record Report and the New Music Weekly country chart.  Watch the video at https://www.youtube.com/watch?v=UeJgy2rJnFI.
Margie Singleton is also a member of the Independent Country Music Hall of Fame. For more information, please visit http://www.margiesingletonmusic.com/