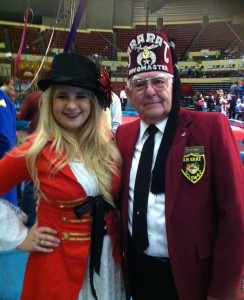 This past Saturday, November 16, 2013, teen country music artist, Josey Milner, a former rodeo rider and rodeo pageant award-winner, traded her "Cowgirl" spurs and crowns for the Big Top and clowns, handling Assistant Ringmaster duties for two performances of the Ararat Shrine Circus. The event was held at the historic Municipal Auditorium in Kansas City, Missouri, Josey's hometown. Appearing at both the 10:30 am performance and the 7:30 pm performance, Josey was on hand all day, taking photos and signing autographs. She also sang the National Anthem during the later show, a tribute to retiring Ringmaster, Jim Jones, in front of an estimated crowd of 10,000. This was Josey's third year performing the Anthem for the circus.
Josey is a former "Shrine Kid," having had back surgery in the St. Louis Shriner's Hospital for Children. The corrective surgery took place over Thanksgiving, when she was just 13 years old. The Ararat Shrine Circus sponsored Josey for the surgery.
The Shrine Circus is a circus founded in the United States in 1906. It travels to roughly 120 cities per year in the United States and a separate unit travels to about 40 in Canada. It is affiliated with the Ancient Arabic Order of the Nobles of the Mystic Shrine, a.k.a. Shriners, a great fraternity that provides fellowship for their members and gives back to the community in various ways including one of their most visible efforts to help children across all of North America through the 22 Shriners Hospitals for Children. For more information, visit http://www.kcshrinecircus.com.