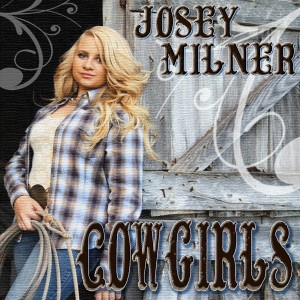 MTS Management Group and Josey Milner are proud to announce the premiere of Josey's new radio single, "Cowgirls." Josey will visit KDKD radio in Clinton, Missouri on Tuesday, November 12, 2013 at 5:30pm, to debut the track with program director, Dr. Dave Young. KDKD is located about 50 miles from Josey's hometown, just outside of Kansas City, MO. "Cowgirls" is Josey's follow up to her anti-bullying theme, "Not Pretty Enough."
"We're so excited about this new record," said Josey's manager, Michael Stover of MTS. "It's been a long time in coming, but worth every second of the wait. This track is going to blow everyone away, when they hear it! I hope everyone tunes in, because we're going to be giving away several copies of the cd single, with artwork personally designed by Josey, herself!"
"Cowgirls" was produced at Awestruck Studios, Kansas City, by Micah Burdick and co-producer/engineer Matthew Russo (Hall and Oates.) Mastering engineer on the project was Larry Gann (John Rich, Elton John, Backstreet Boys.) "Cowgirls" was written by Hillary Lindsey, writer of hits for Carrie Underwood, Sara Evans, Martina McBride; Anthony Petraglia, writer of hits by Tim McGraw and Brooks and Dunn; and Ryan Rygmer. The track features fiddle by Jimmy Mattingly of Reba McEntire's, Garth Brooks' and Dolly Parton's bands; and pedal steel by Smith Curry, who has played on Number Ones by Randy Travis, Billy Currington and Jason Aldean.
Josey Milner is a Kansas City, Missouri native and reigning Miss Odessa. She is also a former rodeo rider and rodeo pageant winner. She has recently opened shows for Scotty McCreery, Chris Cagle and Jon Wolfe. Josey is also a spokesperson with national anti-bullying non-profit organization, Angels and Doves. For more information, visit http://www.facebook.com/joseymilner.
KDKD is broadcast from Clinton, Missouri on 95.3 FM and streaming live on the net at http://www.kdkd.net. Playing "Today's New Hit Country," Dr. Dave broadcasts his "Afternoon Appointment" from 4-6pm.