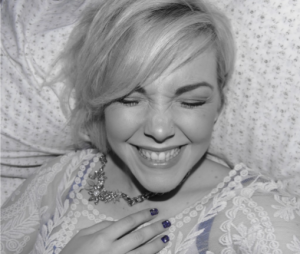 Correigh Killick and her musical partner Ben Amesbury both hail from Buckinghamshire. Correigh, who comes from a very musical family had been singing and writing songs with her two sisters for as long as she can remember. After studying musical theatre in 6th form, she made the natural progression and joined a band, and then another band and then…
In the summer of 2013 the pair were introduced via her younger sister. The connection was immediate and a working relationship quickly formed. They began to collaborate on songs that Correigh had already written, as well as tracks that Ben had been creating in his studio. The eclectic mix of their different influences was clearly special, and Amesbury's vast experience as a recording engineer working for many years with the likes of 'The Magic Numbers', was an invaluable component to the raw ideas that Correigh put forward. Similarly, Ben's deep and hard edged tracks benefitted from her pop sensibilities.  A 3 album deal was signed with the newly founded "Delete" label in early 2016.
Correigh took time out of her busy schedule to talk with us about her new label deal and her EP, Under The Influence.
MTS: You come from a very musical family. Tell me about your family, your upbringing, and how that influenced you as an artist today?
CORREIGH: Yes all of my family love music! My two sisters and I all self-taught the piano and to sing and song write. This is really great because we always talk to each other about new songs we are working on and we can give each other advice on melody changes of lyrics. Mum played the violin for years and loves singing, she got involved in a band or two when she was younger but is a little more introvert than me, so didn't like the whole performance side of things much. My dad was always playing the piano when I was growing up which he also self-taught, so I would be listening to him all the time and it would spur me on to keep learning. I'm still not as good as him but maybe one day…
MTS: Your collaborator Ben Amesbury comes from a harder edged musical background than you. Have there been any challenges, working with someone of a different musical background? How has his influence helped develop you as a songwriter and performer?
CORREIGH: Well we both have some of the same taste in music so actually I find it easy telling Ben what kind of direction I want to go in with my songs. We can spend hours just talking about different tracks and why they are bad or good and how something like x,y or z would help the songs improve. Then he sorts out all the tech which is great because I can barely work a computer let alone Logic. It's nice having a second person too, you don't have to travel alone on flights! He thought it would be a great idea for me to have custom made in-ears by ACS. Best decision ever! I love using them, and they help me a lot with my performances because I can hear everything perfectly and it really builds my confidence. I'm influenced by other female singer-songwriters and am always interested in new songs that have come out, but mainly I am influenced by situations I have been in, my memories, and the things I see in the world today.
MTS: You recently signed a 3 album deal with the new "Delete" record label. How did that signing come about, and how does being signed help you, as an artist/ compared to being an indie artist?
CORREIGH: It was actually slight chance with this signing. Ben and I had been working on creating an album together and we were in the process of having it mixed by Andy Parker. At the time he was working for Vince Garcia, who was in the process of creating Delete_ and so worked within Vince's studio in West Hampstead. He overheard the tracks and became more interested in their progress over the time Andy spent mixing them. So much so, he invited us for a meeting. After several chats and going between lawyers, we signed with them in May 2016. Since then it's been a whirlwind of amazing experiences like photoshoots, gigs in Ibiza, interviews and full time songwriting rather than around a 9-5. It's great having more time now to think about singing and songwriting. I have a vocal coach now which I go to once a week and am starting a 6 month course with in December, I'm really looking forward to being with other singers and seeing how they work. There's no way I would have been able to afford to do any of these things without my label. We've got a PR company called The Everyday Agency working for me which is great, they help with so much. And now with the label, I have been able to write with some really cool artists, and have so many more opportunities for working on different tracks or possible collaborations. It's so amazing.
MTS: Tell us about your new EP, "Under The Influence." Describe some of the songs, the writing and recording process, the players on the EP, and what listeners can expect from it.
CORREIGH: So the Under the Influence EP is based around remakes of songs that myself and Ben love. It started with 'Chop Suey', which Ben recommended we do. To be honest I was quite sceptical at first whether we would be able to pull it off considering it's originally a heavy metal song, but after Ben had created the track, we then spent the time working out a melody and I knew it was going to be wicked. I've always loved Coldplay so knew I had to include one of their beautiful songs. The actual EP didn't take that long at all overall to create, we didn't want to be too precious about it as they aren't actually our songs, and we wanted a nice natural sound for the vocals so only took a couple of takes for each song, and didn't include too many harmonies. We wanted to create a chilled out, minimalistic kind of electronics vibe throughout, so hopefully you enjoy it! I'm sure if you like any other the chilled out Ibiza compilations then you'll like 'Under The Influence'.
MTS: Any plans to tour, and if so, where?
CORREIGH: We are currently going through setting up a live arrangement so once that's all sorted out we will then be doing some key gigs in London and the UK, as well as possibly Ibiza again, before releasing our album next year. We will be doing a lot of performances in Ibiza again next year, and there a couple in the pipeline for Croatia too, and we are also getting involved with a few festivals next summer so you may catch us at one near you!
BONUS QUESTION: What does Correigh like to do, outside of music? And if I was to come over for dinner, what would you serve?
CORREIGH: To be honest, outside of music a lot of music is still involved! I have a few friends who are DJ's so tend to go to a lot of events put on by them, which are mainly DnB/Jungle/Hardtrance. I love catching house DJ's at the well known places in London too. I'm always seeing live music, the last thing I saw was The Cinematic Orchestra a couple of weeks ago, and next up is Jack Garratt on Wednesday! Seeing my friends and family is a really big part of my life and takes up all my time and money when I'm not doing music stuff! When I get time to myself, I definitely make sure I do some reading. Jo Nesbo is one of my favourite authors, so I'm reading 'The Son' at the moment which is so good.
Starter – A massive sharing platter with cocktails!
Main – Probably would end up overcooked as we'd be too busy chatting away and trying out more cocktails but most likely stuffed chicken wrapped in bacon with asparagus and new potatoes.
Dessert – Avocado chocolate pudding. I made this as my mum has recently become a vegan and it was lush!
MTS: Thanks Correigh!  All the best to you and Ben on your EP release!