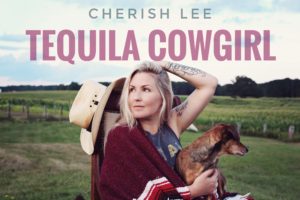 An all-American singer, songwriter and storyteller, Cherish Lee comes from a strong pedigree involving tv and movies. No stranger to the screen, Lee is the daughter of country music legend, Johnny Lee (Urban Cowboy's "Lookin' For Love") and Hollywood vixen, Charlene Tilton (Lucy Ewing on the hit television series, "Dallas.") But when Cherish set out to shoot her latest music video, "Tequila Cowgirl," pedigree couldn't prepare her for the perils and priceless moments that awaited her….
Surprised we actually made it happen, with all of the colorful events that took place…
On the first day of filming, we drove three vehicles out to the farm, and almost put two of the three vehicles out of commission, only a half hour in. We hit a large chunk of rock or metal on the highway, going 70mph. Fortunately, it didn't damage any of the vehicles, except for the last one, of which it completely destroyed the back rims and tire. After 2 1/2 hours of changing the tire to a doughnut and having to jump the car, because the battery decided to give out on us, (of course none of us had jumper cables on us,) we were able to get to another town, going the opposite way, switch the car for another and FINALLY made our way to the farm. 
We have out run the rain, and we get there.. Everyone is waiting on us with open arms, the horse is all saddled up and ready to rock n roll! Kevin Deems (director) sets up his first shot- me riding the horse, Radish, in an open area, surrounded by pretty thick trees. Deems starts the drone camera, and that horse was like, "NOPE!" Radish takes off, straight for the thicket, and I'm on him! There was no safe place to fall off, so I just held on, folded down, so my face was protected and hoped that damn horse had enough sense not to knock himself out!! In the mean time, Kevin's drone is now somewhere up in the heavens, because everyone is now watching, waiting and praying that my head doesn't get taken off, or that the horse doesn't decide to slam me against a tree, to get me off his back. Finally, the horse came out of the thicket, and I got him STOP. I stayed on, took a minute and rode him out to the near pasture and suggested the hand held camera!! Hilarious.
So, by the end of the day, we had to dodge some stuff, hit some stuff, repair some stuff, drive three times as far as we should have had to, just to dodge some more stuff, whether riding crazy horses, wrangling dogs and cows, played a little bit, and got a big portion of the video shot, but it was not without challenges.
A big thank you to Mike and Lori Scates with Legacy Handcrafted Furniture and Swingin' Doors Saloon.
— Cherish Lee
Watch "Tequila Cowgirl" at https://www.youtube.com/watch?v=XcxXNyB6rTQ

Directed by Kevin Deems
Produced by Cherish Lee
Locations by Legacy Handcrafted Furniture and Swingin' Doors Saloon
For more information on Cherish Lee, please visit http://www.cherishleemusic.com
http://www.facebook.com/cherishleemusic