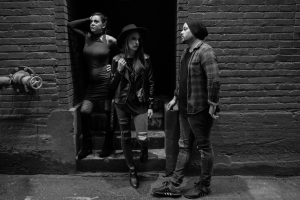 As critically acclaimed band We The Ghost was coming to an end, singer/songwriter Beau Tyler was beginning to feel completely lost as to what his next musical endeavor would be.
Over those summer months in 2017, Beau Tyler made a long list of every artist he had wanted to collaborate with over the years but hadn't yet had the opportunity to. With that creative openness, paired with the almost entire forfeiting of his guitar in exchange for a piano, a new sound began to take shape that Tyler had never explored. Sure, his trademark vocal style was still there, but a new element was beginning to emerge in his songwriting…the infusion of his exploration into Jazz and soul. Everything changed in an instant. While the sound still contained the familiar elements of hip hop and pop found in We The Ghost's music, this was different. Much different.  Enter Meggie McDonald and fellow We The Ghost bandmate Jocelyn Rowland Khalaf….
Though all three artists are accomplished singer/songwriters of original music, they decided to catch their footing by recording out-of-the-box "cover" renditions of some of their favorite songs ever written. The song that truly lit the fire…the band's debut single, a heartbroken twist of the song "Stay" written by Justin Parker and Mikky Ekko (and made famous my Rihanna). But don't think that means you won't hear plenty of original songs coming from the group. The band's upcoming single "We Couldn't Get It Right" is as unique as it is infectious.
Beau, Meggie and Jocelyn took time out of their busy schedules to answer some questions about their hot new band, The X Ohs.
MTS: The X Ohs is a very unusual name for a band.  How did you come up with it?  What is the meaning behind it?  Were there any other names you considered before choosing it?
The X Ohs: Some of the ideas thrown around were names with a very ominous theme. We knew the band was going to have a darker vibe than is usual for pop music, but we didn't want to be so blatant about it. It felt right to take the band seriously, but not ourselves. – Beau
Beau and I basically just threw out a bunch of names at each other until there was one we could both agree on. There were quite a few names we liked…like The Beatles or NSync (since we're so in sync, ya know)…but turns out they were already taken. Who knew? – Meggie
Besides, the best bands in history ALL have AWFUL names… AWFUL names! We're proud to join that long tradition... It's a rite of passage, clearly… – Beau
MTS: We The Ghost was a critically acclaimed band.  How does working with the members of your new project differ from working with your old band?  How is it similar?
The X Ohs: Between myself and Jocelyn things haven't changed much, if at all. However, nothing else is really similar. The recording process is very different in that I build the songs up in the studio, then have Meggie and Jocelyn come do their thing and make it better. Really, anytime you go from a 7 member project to a 3 member project things are going to change drastically. It's still new so ask us again in six months. – Beau Tyler
Beau and I have been working together since 2012 and we make a "dream team ". We know the ins and outs of each other's quirks and we work so well together. I recorded on Meggie's album a couple of years ago and fell in love with her voice. So this project is a dream come true for me. – Jocelyn
I wasn't in We The Ghost, but I could venture to guess that I bet they weren't having to work with a group member that lived 1,800 miles away………thank you technology for helping the distance feel shorter. – Meggie
Wait. You don't live here? You're here all the time! – Beau
MTS: How did your childhood affect your decision to become a musician?  Where did you grow up, and how did that influence the sound of your music?
The X Ohs: It just sort of happened. I got my first guitar when I was 10 years old and started writing my first song the next day. I think it was a rip–off of "Disarm" by Smashing Pumpkins. I basically just Christian-songed it… you know, I just changed the words and called the song "I love it when you smile" or something else cheesy like that. My cousin loved the song, but then again he wasn't familiar with the Smashing Pumpkins so I was safe. I didn't learn to play anyone else's song until I was late into my teens. Writing was just something I did without thinking about it. It was always just about the love for the craft. I'm not sure I really was aware that music was my life until I was on tour at 18 and people started telling me I was pretty good. I should have been a dentist. – Beau Tyler
I've been a musician since I was 3, it's just natural for me. It always has been.  – Jocelyn 
I was born and raised in the mountains of Montana. I grew up in a musical family, so music became my life from a very young age and it's all I've ever wanted to do. Living in such a remote location, there weren't many opportunities to experience a lot of live music, so I was mostly exposed to the music my parents listened to. That music influenced my formative years. However, my eyes were opened to a whole new world of music through a Target commercial back in the 90s…when LeAnn Rimes teamed up with Looney Tunes. It rocked my world and I wanted to be her. As Internet became a thing, I was slowly exposed to more music and my sound changed too. Though I still like to throw it back to my Montana roots. – Meggie
Psh. You don't live in Montana. – Beau
MTS: Tell me about the roles that each member has in The X Ohs.  What does each member bring to the table?
The X Ohs: Meggie and Beau both sing, program and play guitar, and I do extra vocals and violins. I also work closely with Beau on melodies and lyrics, among other musical technicalities.  We keep each other in check and hold each other to a very high professional standard. – Jocelyn
MTS: You are releasing a cover of Rihanna's "Stay."  Why that song?  What other covers can we expect from the band?
The X Ohs: It's a pretty weird thing to offer a cover as a first release. We know this. But in the end, when you release a first song, it's to a pretty limited audience. Especially for us, because it takes time for all the fans of your past projects to get wind that you're doing something new. We didn't want to put out a great original song to a limited audience. So we decided to put "Stay" out. We had recorded it to help find our groove, but we felt that musically it would give people a very accurate introduction into what kind of group we were going to be. – Beau
"Stay" was one of those songs that as we were recording, it felt magical. Our voices, instrumentation, and harmonies all meshed really well together, and it sort of ended up forming our "sound" and vibe we wanted for the band. Plus, we all just really like that song.We have a few other covers in the works…some of which are on the hush hush at the moment. I will say, a personal favorite of mine is "(I Just) Died in Your Arms" by Cutting Crew. I'm excited for that one to be finished up! – Meggie
Well, so much for "hush at the moment". – Beau
Crap! – Meggie
MTS: What artists were the biggest influences on your music?
The X Ohs: As a songwriter, that's a really tough question because I could give you different answers for any mood that I'm writing for. If I'm writing a hip-hop track I'm going to tell you that 90's Will Smith, Common, MF Doom, Kanye, Jurassic 5, Outkast, and Wu-Tang are my biggest influences. If I'm writing a rock song, it might be Our Lady Peace and Third Eye Blind. If it's pop I'd probably say One Republic or Maroon 5. If it's weird music… you're probably not going to recognize any of my oddball influences. So I'll just play it safe and say that U2 is my favorite band of all-time, and that I'm usually ripping off Third Eye Blind in some way or another. Really, now that I consider it, the bands I've been lucky enough to have toured with have probably inadvertently become my biggest influences simply because my proximity to them made them easier to dissect. – Beau Tyler
With a classical background I have all sorts of influences; from Tchaikovsky to Black Sabbath to Third Eye Blind. There are so many I can't even name them all. – Jocelyn
Jocelyn likes Creed. Like, a lot. – Beau
Stapp it. – Jocelyn
I see what you did there. – Beau
But seriously, no. – Jocelyn
Oh geez, where do I start… I've had several vastly different influences. LeAnn Rimes was probably my biggest influence growing up (though you'd probably never guess that from the music I create). Then also bands like Gin Blossoms, Talking Heads, and Lifehouse were huge to me. Most recently, I've been patterning my sound a bit after bands like Broods, Halsey, and Ellie Goulding. I think I've gone through phases of loving almost every genre out there…bits and pieces of them all eventually weave their way through my music. – Meggie
MTS: Tell us about the song, "We Couldn't Get It Right"  Who wrote it? Where and how was it written and recorded?
The X Ohs: "We Couldn't Get It Right" was a really tough song to write emotionally, but a very easy song to write as far as craft is concerned. A couple of years ago I was driving back home from Los Angeles after meeting with my manager and got stuck in a crazy snow storm in Arizona. With close to zero-visibility and almost no gas left in my tank I ran across this creepy little motel in an unincorporated 40 person town and shacked up for the night. I was starving, but there was no food anywhere around. I can't ever sleep when I'm hungry so I just stayed up half the night and wrote the song about a previous relationship that was still very much an open wound. It was one of those perfect nights where you're writing without any agenda and the truth just pours out. – Beau Tyler
MTS: When can we expect a full-length album?
The X Ohs: We're not even sure if that's something we are going to do. I mean, eventually I'm sure we will release a full length album. But right now we are just focusing on releasing as many singles as we possibly can. First you walk. Then you crawl. Then you level up and get a jetpack. – Beau Tyler
MTS: Any touring plans?
The X Ohs: Not yet. We're focusing on getting about 10 to 15 songs out before we even think about that. – Beau Tyler
Just FYI…if anyone wants to book us in the tropics, that'd be cool. I'm getting a little tired of the snow up here in Montana. – Meggie
Psh! Montana? What is she even talking about? – Beau
MTS: What is one thing that you'd like your fans to know, that they may not already know about you?
The X Ohs: I hope to connect with them on a spiritual level with our music. – Jocelyn
I once peed my pants while sleeping in a Teepee. I was 6. Don't judge me. – Beau Tyler
I was the Sanders County Spelling Bee Champion in 6th and 7th grade. I still have the trophies to remind myself that I was smart, once upon a time. – Meggie
MTS: If I was to come over for dinner, what would you serve?
The X Ohs: I would make you Icelandic Lamb Soup, because that's my jam right now. I went to Reykjavik with my wife, Kacy, in October and I just can't get enough. – Beau Tyler
I am a good cook – I would make risotto, crab cakes, eggplant Parmesan or ribeye steaks for everyone. Paired with an excellent wine. – Jocelyn
Well… might I interest you in a bowl of cereal? – Meggie

MTS: Thank you for your time and best of luck with the upcoming release!
For more information on The X Ohs, please visit :
Website link: https://www.thexohs.com/bio