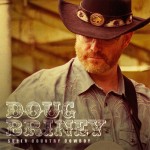 MTS Management Group and Doug Briney are happy to announce Doug's "Nashville Christmas" online concert event. The live, interactive show will take place on Friday, December 6, 2013 at 8:30pm ET/7:30pm CT. The one-night only performance will take place on StageIt.com. A limited number of tickets are available for $5, now until showtime at http://www.stageit.com/doug_briney/nashville_christmas/31126. Doug will be peforming Christmas favorites and sharing some memories of past holidays with fans. The chat room, available during the show, will make it possible for fans to comment and share their memories and requests with Doug, during the 30-minute-long show.
"StageIt.com is the hottest new way for artists to give an intimate performance for their fans," said Michael Stover or MTS Management Group. for just a few bucks, fans get an up-close and private concert, right in the comfort of their own homes. Plus, the chat room makes it just that much more special. To be able to actually converse with your favorite artists during their performance, and request the songs that you want to hear, is something special. Fans can even buy tickets for family and friends in different cities, too! Then, they can all show up and chat with each other during the concert. What a great way to say 'I'm thinking of you during the holiday season."
On Stageit, artists perform live, online shows from their laptop that are never recorded or archived. That's right! Every Stageit show is a once-in-a-lifetime experience that's not to be missed. Stageit allows both fans and artists to be part of the show. Fans are encouraged to ask the artist questions, request songs, and even chat with other fans during the show. Stageit enables fans to support artists. Whether you're helping an artist finance their next album or contributing to the performer's favorite charity, Stageit artists actually get paid for their time. For more information, visit www.stageit.com.
Doug Briney is a 2013 Independent Country Music Association Award Winner. His latest album, Super Country Cowboy was released this month, with Tate Music Group. It charted on the itunes inspirational music chart. His previous release, It's All Country spent 8 months on the Roots Music charts. He resides in Nashville, Tennessee. For more information, visit www.dougbriney.com.