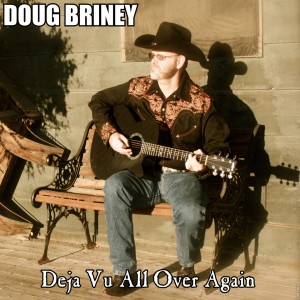 MTS Management Group and CBM Records' country music recording artist, Doug Briney are happy to announce the radio release of Doug's new single, "Deja Vu All Over Again." The single will be officially released for radio airplay on December 4, 2012. It is the third single from Doug's critically acclaimed debut album, "It's All Country."
"Deja Vu All Over Again" was written by Pat Kelley and Donna Opfer. The previous two singles from Doug Briney, "More Than Just a Farm" and "It's All Country" were both either written or co-written by Mr. Kelley. Both singles have received international airplay and worldwide independent chart success.
"When I was listening to songs for my album, I must have listened to at least 300 songs before I found the perfect ten that made the final cut," says Briney. "Pat's songs just spoke to me. I immediately connected with the messages in his music, and I feel very blessed that the fans and radio have really shown their love and support for them, too."
"Deja Vu All Over Again" is Doug's first single for his new label, CBM Records, based in Atlanta, GA. It will be the final single from "It's All Country." Doug is scheduled to enter the studio in early 2013 to record brand new music for a forthcoming EP project.
Based in Anchorage, Alaska, Doug Briney is a 2012 ICMA nominated artist. He is also a nominee for The Southern Star Network's Indie Artist of the Year. His album was recently in the Top 10 of the Roots Music Report Country chart, and he has been the #1 International Artist, according to CMG Radio Network. For more information, visit DougBriney.com.