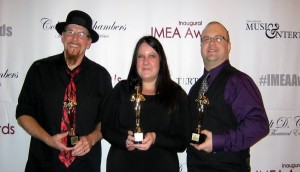 MTS Management Group would like to congratulate their artists, Amy Rose and Jiggley Jones, on their 2013 International Music and Entertainment Association Awards (IMEA.) Canadian country music artist and songwriter, Amy Rose took home top honors in the country category, winning Country Entertainer of the Year. Eastern PA-based Americana singer/songwriter, Jiggley Jones received the award for Songwriter of the Year. MTS Management Group was named Manager of the Year. The inaugural awards ceremony was held Saturday, November 2, 2013 at the Paramount Arts Center in Ashland, KY.
"I think I can speak for both Amy and Jiggley, when I say, we are extremely honored and humbled, not to mention surprised, by these awards," said Michael Stover of MTS Management Group. "We were so thrilled, just to be nominated. Our artists received a total of 13 nominations, this year. Last night was an unbelievable night, filled with incredible performances and touching award presentations. It was so special to be able to share this memorable evening with 3 of my artists, with Josey Milner performing. I will never forget it!"
Amy Rose was nominated for 3 additional awards: Best Country Song ("I Just Want You To Know"), Best Country Female, Best Music Video ("Party Like A Redneck.") Jiggley Jones was also nominated for Best Music Video ("Baby Blue.")
Amy Rose is an Ontario-based country music artist and an Independent Country Music Association award winner. She was previously nominated for a 2013 Ontario Country Music Association award. Her first two singles have received Top 10 airplay status on several charts. Her current single, "Sunshine" is now playing at country radio. For more information, visit http://www.amyrosemusic.com.
Jiggley Jones is a Coatesville, PA-based Americana singer-songwriter. He previously won the Grafitti Radio Songwriters Contest. His debut EP, No Spring Chicken has earned Top 3 status on several airplay charts. He has performed in New York City, Philadelphia, Nashville and others. For more information, visit http://www.jiggleyjones.com.
The IMEA Awards are presented by the International Music and Entertainment Association, Inc. The mission of the IMEA Awards is to honor and recognize international individuals and organizations in the music, theatre, and film industries. This year, music awards are presented in the following genres; Country, Pop, Rock, Hip Hop, and Gospel/Christian. For more information, including a list of award categories, visit http://www.imeaawards.com/about/.