Whiskey and Cigarettes Country Radio Show is happy to announce the airing of their exclusive interview with Cherish Lee, daughter of country legend, Johnny Lee and "Dallas" star, Charlene Tilton.  Ms. Lee joined award-winning host, DJ Nik Bernitz Pizzigoni to discuss her brand new single, "Tequila Cowgirl."
The interview with Cherish Lee will air this coming Sunday, October 29th, 2017 between 11am ET-3pm ET. The live show airs on Military Brotherhood Radio at http://www.militarybrotherhoodradio.com. Whiskey And Cigarettes is also re-broadcast on internet and am/fm syndicate stations, and their affiliates around the world.  The show is also available on demand, on Soundcloud and at www.whiskeyandcigarettesshow.com.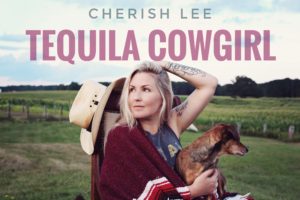 Cherish Lee has seen how hard the business is first hand through her father, Johnny Lee (country music legend, Urban Cowboy's "Lookin' For Love") and mother, Charlene Tilton (television sex pot vixen, Lucy Ewing on hit TV show, "DALLAS"). She quickly gained her own recognition as a singer and songwriter in THE Music City. Lee's album is truly homegrown– a Cinderella piece that is just flat out cool. This October 2017, Lee is releasing her first single "Tequila Cowgirl," along with her music video debut.  "Tequila Cowgirl" is about an all American girl- a hard worker; she's got her head on straight, knows right from wrong and lives by that. She loves Jesus and tequila. She loves her animals and is thankful for what she has. While she doesn't need a man and won't share her bed with just anyone, she is looking forward to meeting the right one. Any guy would be considered lucky to bring her home to meet his mama, and every girl wants to be her best friend! The song has an intimate, nostalgic feel to it with a healthy dose of country music. The full, aptly- named album, "Tequila Cowgirl" is scheduled for release in January 2018. It's honest music that tells a story, and Lee's voice conveys it beautifully, with all the attitude that her fans have come to expect from her. www.cherishleemusic.com
Whiskey And Cigarettes Radio Show" is a weekly show, originating in Milan, Italy, hosted by the "Romeo of the Rodeo" Nik Pizzigoni.  Nik is a Nashville Universe Awards Winner, International Music and Entertainment Association Award Winner, a New Music Awards Winner, AMG Heritage Awards nominee,  and an Independent Country Music Association nominee. The show features a unique blend of classic, current and indie country, trivia, contests, artist spotlights and interviews and Nik's European charm. Previous guests have included Charley Pride, Hank Williams, Jr., Charlie Daniels, Steve Wariner, John Rich, Oak Ridge Boys, Lorrie Morgan, Bill Anderson, Luke Bryan, Bryan White, Travis Tritt, Lee Greenwood, Collin Raye and many others.  www.whiskeyandcigarettesshow.com.