MTS Management Group and Whiskey And Cigarettes Country Radio Show are pleased to announce the airing of DJ Nik Pizzigoni's interview with legendary record producer and musician, Doc Holiday. The exclusive interview will air this coming Sunday, October 6, 2013 between 11am ET-3pm ET. The live show airs on Military Brotherhood Radio at http://www.militarybrotherhoodradio.com. Whiskey And Cigarettes is also re-broadcast on 34 syndicating stations, worldwide, multiple times throughout the week.
Doc Holiday has performed and worked with the biggest names in Rock & Roll: Jerry Lee Lewis, The Rascals, Bruce Springsteen, Chubby Checker, Bobby Rydell, Ray Charles and The Fifth Dimension, just to name a few. He has produced records by Mel McDaniel, Doug Kershaw, The Kentucky Headhunters, Herman's Hermits and many others. For more information, visit http://www.dreammachineproductions.com.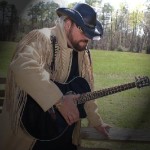 Whiskey And Cigarettes Radio Show is a weekly show, originating in Milan, Italy, hosted by the "Romeo of the Rodeo" Nik Pizzigoni. The show features a unique blend of classic, current and indie country, trivia, contests, artist spotlights and interviews and Nik's European charm. www.whiskeyandcigarettesshow.com.