Whiskey and Cigarettes Country Radio Show is happy to announce the airing of their exclusive interview with 18-year-old country music newcomer, Willi.  Willi joined award-winning host, DJ Nik Bernitz Pizzigoni, to talk about his.debut album, The Journey, produced by country legend, Doc Holiday.  
The interview with Willi will air this coming Sunday, November 1, 2015, between 11am ET-3pm ET. The live show airs on Military Brotherhood Radio at http://www.militarybrotherhoodradio.com. Whiskey And Cigarettes is also re-broadcast on 50 syndicating stations, worldwide, multiple times throughout the week.  The interview will also appear on the November edition of the "Whiskey and Conversations" talk show, broadcasting in November on iheartradio and other outlets.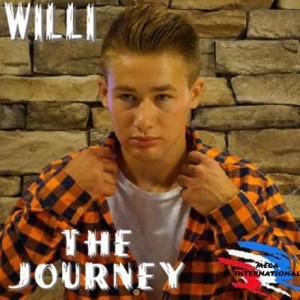 Hailing from the cold country of Bismarck, North Dakota comes an 18 year old singer/songwriter, His name? is simply "Willi," and he is soon becoming the newest,brightest star in the Nashville sky. His debut album titled, The Journey was recorded at Sony Studios in Nashville and produced by the multi-award-winning record producer and winner of the Nashville Universe Producer of the Year in 2014 and 2015, Doc Holiday. Holiday, along with his Legendary studio "A" team, featuring Nashville studio session players, have received a combined total of 41 Grammy, CMA, ACM awards. Doc's "A" team members have also played on over 100 Number One Platinum and Gold records. "A" Team Members have been inducted into The Rock And Roll Hall of Fame and The Country Music Hall of Fame, just to name a few.  Willi's first single, "Knowin' Ur Mine" is quickly rising on the New Music Weekly charts, bubbling just under the top 50 as of October 11, 2015.  https://www.youtube.com/watch?v=ZGimh7iq1rQ
Whiskey And Cigarettes Radio Show is a weekly show, originating in Milan, Italy, hosted by the "Romeo of the Rodeo" Nik Pizzigoni.  Nik is a Nashville Universe Awards Winner, International Music and Entertainment Association Award Winner, a New Music Awards Winner, AMG Heritage Awards nominee, Artists In Music Awards nominee, and an Independent Country Music Association nominee. The show features a unique blend of classic, current and indie country, trivia, contests, artist spotlights and interviews and Nik's European charm. Previous guests have included Charlie Daniels, Steve Wariner, John Rich, Oak Ridge Boys, Bill Anderson, David Ball, Bryan White, Doug Stone, Lee Greenwood, Collin Raye and many others.