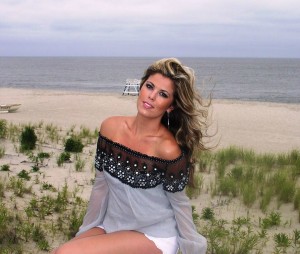 MTS Management Group and Whiskey And Cigarettes Country Radio Show are pleased to announce the airing of DJ Nik Pizzigoni's interview with Nashville country recording artist, Sydney Hutchko. Ms. Hutchko was born and raised near Pittsburgh, PA. She is singing the National Anthem prior to Game 4 of the Pirates vs. Cardinals series. The exclusive interview will air this coming Sunday, October 13, 2013 between 11am ET-3pm ET. The live show airs on Military Brotherhood Radio at http://www.militarybrotherhoodradio.com and on WDMU Radio at http://www.wdmuinternetradio.com. Whiskey And Cigarettes is also re-broadcast on 35 syndicating stations, worldwide, multiple times throughout the week.
Working with producer/songwriter Bob Corbin, well known for his many hits written for Alabama, The Oakridge Boys and Kenny Rogers, Sydney recorded her self-titled EP at The Sound Emporium Studios, Nashville, TN/Market Street Sound, Pittsburgh, PA. Her single, "Mr. Mister" received national airplay, climbing into the Mediabase Top 100. She has opened for George Jones, Miranda Lambert, Craig Morgan, Jamey Johnson, Brett Eldredge, David Nail, and Charlie Daniels. For More information, visit www.sydneyhutchko.com.
Whiskey And Cigarettes Radio Show is a weekly show, originating in Milan, Italy, hosted by the "Romeo of the Rodeo" Nik Pizzigoni. The show features a unique blend of classic, current and indie country, trivia, contests, artist spotlights and interviews and Nik's European charm. www.whiskeyandcigarettesshow.com.