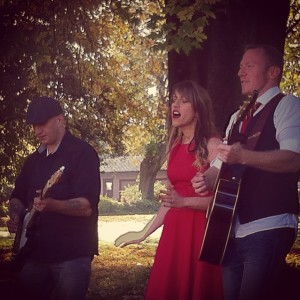 This past Saturday, October 12, 2013, Canadian country music trio, Western Avenue filmed a new music video for their current radio single, "Wherever You Are." The military-themed video was filmed on location in Belleville, Ontario, under the direction of Chris Vandenberg. Additional production members include: Samuel Scott, Producer; Adam Taylor, Director of Photography/Camera Operator; and Josh Roarback, Editor. The video will include performance shots of the band, as well as scripted scenes featuring actors. A release date is expected for Mid-November.
"Wow! What another amazing experience today," said Matt Williams, one of Western Avenue's guitarists/vocalists. "I really feel the video for "Wherever You Are" is going to hit home with a lot of people. We are very pleased that the video has a military theme to it. The crew we're an absolute blast to work with. We were contacted in the summer, to see if we'd be up for doing a video for this song, and with the outcry of support from people all over the World, we jumped at the chance. A huge special thanks to the crew at Loyalist College in Belleville Ontario for your hospitality today."
This is not the first music video for "Wherever You Are," although it will be the first "official broadcast" version. A slide show video, published to Youtube in July 2013, has more than 30,000 views. http://www.youtube.com/watch?v=xRIU9mB5Hqg
Western Avenue is based in Peterborough, Ontario, Canada. Members include Matt Williams, Keith Robertson and Nikki English (Robertson.) Their debut self-titled album was released in February 2013. It was nominated for a 2013 International Music and Entertainment Association award for Best Country Album. The band was nominated for Best Country Band. "Wherever You Are" is Western Avenue's first US single release. For more information, visit http://www.westernavenue.ca.