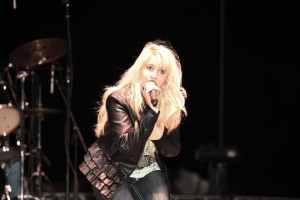 MTS Management Group and teen country music artist, Josey Milner are happy to announce Josey's appearance at the Shrine Circus on Saturday, November 16, 2013. Josey will sing the National Anthem, and she will be available for meet-and-greet opportunities, all day. The event begins at 10am at Municipal Auditorium, located at 301 W. 13th St Kansas City, MO 64105. Tickets start at $12 and can be purchased in advance at http://www.kcshrinecircus.com/buy/ or by calling 816.923.1975.
Josey is a former "Shrine Kid," having had back surgery in the St. Louis Shriner's Hospital for Children. The corrective surgery took place over Thanksgiving, when she was just 13 years old. The Ararat Shrine Circus sponsored Josey for the surgery.
The Shrine Circus is a circus founded in the United States in 1906. It travels to roughly 120 cities per year in the United States and a separate unit travels to about 40 in Canada. It is affiliated with the Ancient Arabic Order of the Nobles of the Mystic Shrine, a.k.a. Shriners, a great fraternity that provides fellowship for their members and gives back to the community in various ways including one of their most visible efforts to help children across all of North America through the 22 Shriners Hospitals for Children. For more information, visit http://www.kcshrinecircus.com.
Josey Milner is an 18-year-old, three-time 2013 International Music and Entertainment Association award nominee. Her debut US single, "Not Pretty Enough" received worldwide radio play, reaching Number One on an indie airplay chart. The song spearheaded her anti-bullying campaign with national non-profit organization, Angels and Doves. Josey has performed at CMA Fest and The Children's Teddy Bear Festival, as well as opening shows for Scotty McCreery, Blackjack Billy, Jon Wolfe and Chris Cagle. Her new single, "Cowgirls" is due for November release. For more information, visit http://www.joseymilner.com.