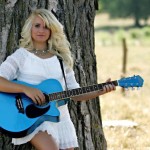 On Sunday, October 13, 2013, teen country music artist and Kansas City, Missouri resident, Josey Milner performed an acoustic set at Missouri State Representative Donna Pfautsch's First Annual Trap Shoot And Family Dinner. The event took place at the Lake Lotawana Sportsman Club. In addition to Josey's performance, the event included trap shooting and a dinner.
Donna Pfautsch, R-Harrisonville, was elected to the Missouri House of Representatives Nov. 6, 2012, from the newly drawn 33rd District, which includes parts of Cass, Jackson and Lafayette counties. Prior to her election, she was a teacher in the Harrisonville Cass R-IX School District and served as Alderwoman and Mayor Pro Tem for the City of Harrisonville. She is a past president of the Missouri Gifted Association and a member of the Harrisonville City Council.
Josey Milner is a two-time International Music and Entertainment Association award nominee and an Independent Country Music Association award nominee. She is a spokesperson for national non-profit organization, Angels and Doves. Josey's single, "Not Pretty Enough" topped indie country charts and received worldwide airplay. She has performed shows with Scotty McCreery, Chris Cagle, Jon Wolfe and others. For more information, visit http://www.joseymilner.com.