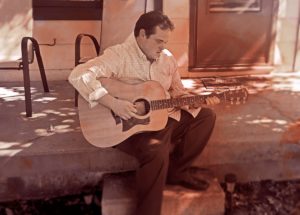 JJ McGuigan caught the attention of radio programmers and music journalists with the first two singles from his EP, Dissociative. "Letter" and "Home" received both critical praise and airplay chart success, reaching the New Music Weekly country chart Top 80, as well as the Top 40 Roots Music Report Americana chart. "Letter" earned McGuigan an Akademia Award for Best Alternative Song in January 2017. Indie-Spoonful.com said, "The lyrics to this song ("Letter), and every song on the EP, are dripping with insight. This song is like a prayer and McGuigan sounds like an angel."
Now, McGuigan returns with a new single and lyric video for "In All Honesty," another track on Dissociative. Written by McGuigan and Garrett Crow, the song features vocals from Scott Spriggs.  Warlock Asylum International News says, "In All Honesty' and 'Letter' highlight McGuigan's skill as a guitarist."  Jamsphere Magazine raves: "Not many other singer-songwriters out there put more soul, grit, and heart into their music than McGuigan."
Watch the new lyric video at https://www.youtube.com/watch?v=3Ir7LSWtS_Y.

Dissociative is available for download at all major online music retailers.
ABOUT JJ MCGUIGAN: JJ McGuigan is a VH1 Save The Music Songwriting Contest Finalist, award-winning singer-songwriter, guitarist, and mental health advocate.  A drummer since age 13, McGuigan later picked up the guitar and began writing songs at age 20. He attended Newman University and renowned recording school, Full Sail University.  Songwriting has now become JJ's main focus and passion, with an emphasis on lyrical creation. McGuigan has appeared on countless radio shows and his music has been heard on hundreds of stations around the world.  After a brief stint in Austin, Texas, he has returned to his hometown of Wichita. He is currently working on a follow up EP for 2017 release. For more information on JJ McGuigan, please visit www.jjmcguiganmusic.com.
http://www.facebook.com/jjshredder15