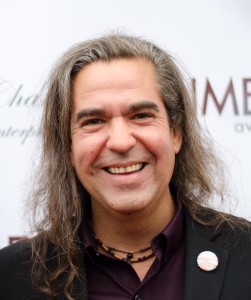 MTS Management Group is happy to announce Ed Roman has the Number One single on the CMG Global Radio DJ Hit List Top 20 Chart.  Ed's single, "I Told You So" tops the chart for October 15, 2014.  His track bests releases from Josey Milner, Hicks, and Richard Lynch.  "I Told You So" comes from Ed's album, Letters From High Latitudes (MTS Records).
"We're extremely proud of Ed and his successes," said MTS President, Michael Stover.  "Ed is such a gifted songwriter and musician, and it doesn't surprise me that his talent has translated to radio airplay and chart success.  Ed's coming off his International Music and Entertainment Association (IMEA) Award win for AC Artist of the Year, and this is some terrific icing on the cake!"
Ed Roman is also charting on several other CMG Global Radio charts, including CMG's Global Top 200 (#131, 156), Acoustic (#2), Americana (#11), Country Top 20 (#2), S. Pacific (#6), and others.
CMG Radio is owned and operated by The Cramer Multi Media Group and is a Distributor of Indie Artists Music via our CMG Global Radio Network, BSM Global Radio Network, CMG European Radio Network and the CMG Asian Radio Network.. The Daily lineup of shows are made up of independently owned and operated shows, from Presenters, DJ's and Radio Station Owners. The shows you will hear are all syndicated on various stations and radio networks.  For more information, visit http://www.cmgglobalradio.com.
Ed Roman is a Canadian singer, songwriter and multi-instrumentalist.  Based in Shelburne, Ontario, Ed is an IMEA Award Winner, an AMG Heritage Award Nominee, and an Artists In Music Award Nominee.  Ed has received critical praise and North American college radio airplay on more than 100 stations. For more information, visit http://www.edroman.net.