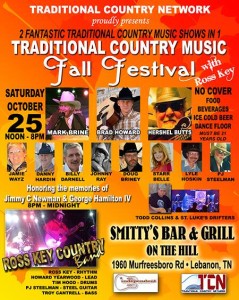 MTS Management Group is happy to announce Doug Briney will be performing at the Traditional Country Music Fall Festival in Lebanon, TN.  The free event is being held on October 25, 2014 at Smitty's Bar and Grill on the Hill, located at 1960 Murfreesboro Rd. in Lebanon, TN. The festival begins at 12 noon, and it includes performances by Mark Brine, Brad Howard, Hershel Butts, Jamie Wayz, Danny Hardin, Billy Darnell and others. A special tribute performance to Jimmy C. Newman and George Hamilton IV, performed by Ross Key Country Band, will begin at 8pm. The 21 and over event is presented by the Traditional Country Network.
"We're very honored to have Doug performing and paying homage to traditional country music artists at this festival," said Michael Stover of MTS Management Group. Doug's manager.  "Doug has always embraced his traditional roots, and you can hear the influences of artists like the Oak Ridge Boys, Statler Brothers, Lee Greenwood and others in Doug's music.  Thank you to Ross Key for welcoming Doug with open arms.  It's going to be a fantastic day/night of music!"
Doug Briney is signed with Tate Music Group, who produced his 2013 release, Super Country Cowboy. The album reached the itunes Inspirational charts, receiving critical praise and airplay chart success.  It is the follow up to his debut, It's All Country, which spent more than 8 months on the national Roots Music charts. Doug is a CMA Artist, who is an International Music and Entertainment Association Award Winner and an Independent Country Music Association Award Winner.  For more information, visit http://www.dougbriney.com.