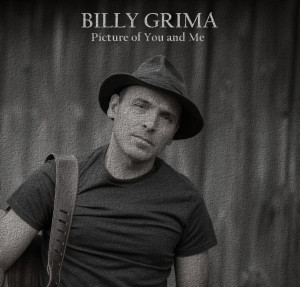 MTS Management Group and Canadian singer-songwriter, Billy Grima are happy to announce the release of Billy's new single and music video, "Picture of You and Me." The single and video are being released as a Remembrance Day and Veterans Day (November 11th) tribute to Canadian and American military troops and veterans. The video is available for viewing at https://www.youtube.com/watch?v=-qTFjsEZDnc. The single is available now at all major online music retailers.
"Picture of You and Me" was written and recorded by Billy Grima. It is taken from Billy's acclaimed third album, Sugar & Cream, produced by Pete Swann.  The Gregory De Souza-directed music video was filmed in Caledon, Ontario, with some footage being shot at the Armed Forces Cemetery.  The video features black and white footage of Grima in performance shots, with beautiful panoramas and landscapes, and a touching photo montage section.
Billy Grima is an award-nominated singer/ songwriter living in the Caledon Hills of Ontario, Canada. Born in Blacktown, NSW Australia, Billy started writing at a very young age and was singing in a church choir by the age of 8 years old. At 15, Billy moved to Canada and settled in Toronto.   Billy has 3 albums to his credit: I'm Just Standing , A Little Piece Of Heaven and his latest, titled Sugar & Cream, produced and engineered by Pete Swann (Glass Tiger's Alan Connely, Adrian and Justin Lifeson, sons of Rush's Alex Lifeson.)  Sugar & Creamreceived airplay on more than 100 AM/FM stations across North America and more than 500 stations around the world.  Billy is a Josie Show Awards nominee, an Akademia Awards Winner, and a three-time 2015 International Music and Entertainment (IMEA) Award nominee. For more information, visit http://www.billygrima.com.