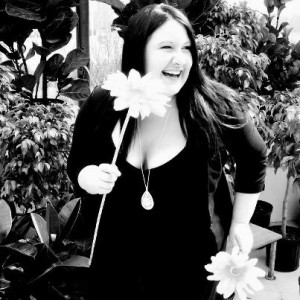 This week, Canadian CountryGlam Diva, Amy Rose brought her "Sunshine" press tour to New York City, for several performances, a charity event, a morning show co-hosting gig, and interviews galore! Amy is giving everyone an intimate, behind-the-scenes peek at her tour diary, from the perspective of an up-and-coming country music star, while on the road:
Sun, October 13, 2013: Hello Liberty New York!!! We have arrived alive at our first hotel, just doing a little chill-axing before we start to get ready for tonight's show at the Bitter End… Had a fabulously long drive here, and I must say I think Dan Kokol has come quite fond of my dj playing skills… We actually had a moment where we sang "Time Of My Life" together from the Dirty Dancing movie… (It was a magical moment) Hahahaha. Anywho, from the road this is ME saying over and out!!!
Just arrived back at the hotel from tonight's show at the "Bitter End" in New York City!!! (Thank you so much for having us, we truly had a blast) Now to finish my beverage and go to bed because we have a crazy early morning again tomorrow as Day #2 of the New York City "Sunshine" press tour kicks off at 7am with me co-hosting Thunder 102…
Monday, October 14, 2013: OMG! It is 4:45am in the friggin' morning, and I'm up getting hair and makeup done for Day #2 of the New York City "Sunshine" press tour… Tell me why I couldn't have been a boy, because Dan Kokol's lazy butt is still in bed sleeping… LoL. (I've already thrown a pillow at him but he won't wake up.) Next thing is gonna be a cup of cold water!!! Bahahahaha!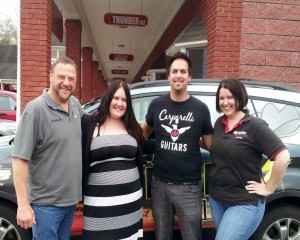 Just got done co-hosting Thunder 102 in Liberty, NY , and what a F.U.N. time that was!!! We laughed tons and talked alot about some really cool things including ME… Hehe. Also I now have an Actor for the role of my "LOVER" if an Amy Rose true life story movie should ever be made… LoL. Now, were off to go get some breakfast before we head back to downtown NYC, for what is called an "Extremely Crazy Busy Day," as the New York City "Sunshine" press tour continues… Next up I sit down for an interview at the famous Metropolitan Room at 2pm, then two shows starting at 7pm followed by another at 10pm…
Tuesday, October 15, 2013: Happy Tuesday morning!!! We are gearing up for Day #3 of the New York City "Sunshine" press tour, and I'm extremely happy to say I got to sleep in until 7am this morning… (I must admit these 4am mornings were really making me a wee bit cranky.) Hahaha. had a blast last night doing two back to back shows starting at 7pm followed by another at 10pm… (Thanks to Path Cafe & Parkside Lounge for having us.) What's on today's schedule you ask? Well, as many of you know I have teamed up with an amazing organization by the name of Bright Star International @ www.brightstarinternational.org, who are proud supporters of an incredible foundation called "Sing For Hope," and I'm so deeply honored to be a part of this, so today at 12pm we'll be stopping by a local NYC Children's Hospital to sing a few songs and do some meeting and greeting. Then at 5:30pm its another radio interview!!!
Wednesday, October 16, 2013: And that's a wrap New York!!! We finished our last radio interview last night on the Real Radio Show which I must say was so much F.U.N and don't think I have ever laughed so hard in my life before… Mark Mendoza from Twisted Sister was one of the radio host and such an incredible guy… (We really had a moment and now im crushing on him) hehe. I wanna say a BIG thank you to everyone who made this New York City "Sunshine" Press Tour happen, it was truly an experience of a life time, although Dan Kokol now has some driving anger management issues to work on after sharing the road with the New Yorkers and I'm gonna need therapy BUT we had a blast… LoL. Now it's back to Canada, so I can get some darn sleep!!! Hahahaha. PEACE OUT…
Amy Rose is a 4-time 2013 International Music and Entertainment Association award nominee and an Independent Country Music Association award winner. Her first two single releases have received international airplay and charting, earning the powerhouse vocalist comparisons to contemporaries like Kelly Clarkson and Carrie Underwood. Her current single, "Sunshine" was released on September 30th, and it was the Most-added single at New Music Weekly country chart reporting radio stations. For more information, visit www.amyrosemusic.com.