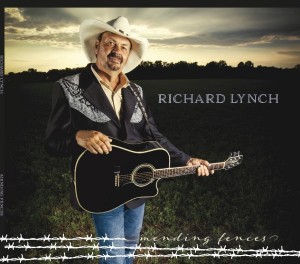 Those who are country through and through are sure to have heard of Josie Award winner Richard Lynch – for those who haven't heard, then "Mending Fences" is the perfect album to introduce you to this all-American power house of country music.
"Mending Fences" is a collection of twelve strong songs that really showcase the strength of Lynch's performance and vocal abilities that he has honed over the past thirty years. Backed up by a super-tight band that oozes seemingly effortless creativity, Lynch is able to take us on a musical journey that covers a lot of ground. "Think and Drive", "Knock Three Times" and the album opener "Daddys Words" are all upbeat songs that will get toes tapping and dance floors buzzing within seconds. These are the real feel good tunes that make you smile as you're driving down the highway with the windows down.
The title track "Mending fences" slows the pace down a little and shows us the more melancholic cowboy side of country music that Lynch can deliver. As I listen through this album and hear "Things You Shouldn't Do", "Country Music Isn't Country Anymore" and "Cut and Paste", I can't help but feel this is a classic, up to date country album with just a hint of old country outlaw – it feels fresh and new, yet tips it's hat to the memory of old country legends such as The Highwaymen or Merle Haggard.
One highlight to mention is the sweet and succulent "Back in Love Again" which is a delicious male / female duet featuring the excellent Rhonda Vincent. This is a truly versatile collection of songs that hits on every emotion you could
want in a country album – mix in some some of the finest country musicians you have ever heard plus some world class production and you suddenly have a country album that is destined to never leave your playlist.