Whiskey and Cigarettes Country Radio Show is happy to announce the airing of their exclusive interview with Top 30 Music Row chart artist, Homegrown Band. The entire band joined award-winning host, DJ Nik Bernitz Pizzigoni, to talk about the recent success of their hit anthem, "Summer Song."

The interview with Homegrown Band will air this coming Sunday, October 2nd, 2016 between 11am ET-3pm ET. The live show airs on Military Brotherhood Radio at http://www.militarybrotherhoodradio.com. Whiskey And Cigarettes is also re-broadcast on 50+ syndicating stations, worldwide, and their affiliates, multiple times throughout the week.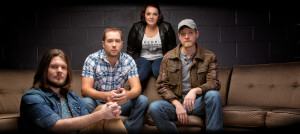 Homegrown's unique blend of modern tones and textures shimmering over the powerful, nostalgic three-part harmony of brothers Craig and Kevin Brannon with vocalist Megan Blair is masterfully captured on Summer Song, their independently released debut. Though versatile, the band believes the album's selection of songs is representative of a recognizably 'Homegrown' sound. The album's first single, "I'm Gonna Be Me," reached the Top 60 on Music Row—an accomplishment made more impressive by the fact that it was the first single released to country radio by Homegrown, an independent recording artist. "She Loves To Ride," the second single from the album, broke into the Music Row Top 60 and Billboard Indicator Top 50.  "Summer Song" reached Top 30 on Music Row, as of this writing.  For more information, please visit www.homegrownband.com.
"Whiskey And Cigarettes Radio Show" is a weekly show, originating in Milan, Italy, hosted by the "Romeo of the Rodeo" Nik Pizzigoni.  Nik is a Nashville Universe Awards Winner, International Music and Entertainment Association Award Winner, a New Music Awards Winner, AMG Heritage Awards nominee,  and an Independent Country Music Association nominee. The show features a unique blend of classic, current and indie country, trivia, contests, artist spotlights and interviews and Nik's European charm. Previous guests have included Charley Pride, Hank Williams, Jr., Charlie Daniels, Steve Wariner, John Rich, Oak Ridge Boys, Lorrie Morgan, Bill Anderson, David Ball, Bryan White, Doug Stone, Lee Greenwood, Collin Raye and many others.  www.whiskeyandcigarettesshow.com.