Whiskey and Cigarettes Country Radio Show is happy to announce their new reporting station status to three country music charts: IndieWorld Country Record Report, American Independent Country chart and National Radio Hits chart. Whiskey and Cigarettes also reports to the New Music Weekly/STS and Roots Music Report charts. The show is syndicated on 50 stations, worldwide.
"We're very honored to have our show helping to shape the radio landscape, by reporting what we're playing, to these respected charts," said host, Nik Pizzigoni. "We look forward to a long relationship with all of them.  2014 has been a remarkable year for the show, and we intend to continue bringing our listeners the best in country music and interviews, on a weekly basis. We're very excited about where we're heading!"
Each week, the Whiskey and Cigarettes show presents an exclusive interview with some of the most influential artists in country music.  This week, the special guest will be Americana duo, Bradford Loomis and Beth Whitney.  The critically acclaimed pair are promoting their debut release, The Banner Days.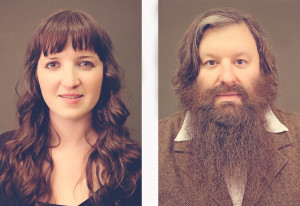 The interview with Bradford Loomis and Beth Whitney will air this coming Sunday, September 21st, 2014 between 11am ET-3pm ET. The live show airs on Military Brotherhood Radio at http://www.militarybrotherhoodradio.com. Whiskey And Cigarettes is also re-broadcast on 50 syndicating stations, worldwide, multiple times throughout the week.  The interview will also appear on the September edition of the "Whiskey and Conversations" talk show, broadcasting in October, on iheartradio and other outlets.
The duo of Bradford Loomis (guitar, vocals) and Beth Whitney (ukelele, vocals) began as a casual co-writing experiment.  From the first
time they played together, along with Beth's husband/collaborator, Aaron Fishburn, the chemistry has been powerful. The combination of Beth's delicate, pure, and melodious voice and Bradford's soulful, growling tone makes for a beautifully heart wrenching harmonious blend. With equal parts sweetly anthemic, pop tinged folk, provided by Beth, and Bradford's gritty, passionate Americana Roots sound, The Banner Days is an intrepid step for both artists.  For more information, visit http://www.thebannerdays.com.
The Indie World Country Record Report is the world's first independent country chart. The American Independent Country chart  http://www.indieworldcountry.com.
The American Independent Country Music Singles Chart is designed for exposure of country music's independent country Artist. Unlike most chart publications, The American Independent Country Singles Chart only ranks the top 50 independent country music songs as played on country radio.  http://www.americanindependentcountry.com.
The National Radio Hits charts are "where radio and music fans converge." A combination of radio station playlists and fan votes determine the Top 50 singles chart. http://www.nationalradiohits.com.
Whiskey And Cigarettes Radio Show is a weekly show, originating in Milan, Italy, hosted by the "Romeo of the Rodeo" Nik Pizzigoni.  Nik is a Nashville Universe Awards Winner, International Music and Entertainment Association Award nominee, AMG Heritage Awards nominee, Artists In Music Awards nominee and an Independent Country Music Association nominee. The show features a unique blend of classic, current and indie country, trivia, contests, artist spotlights and interviews and Nik's European charm. Previous guests have included Charlie Daniels, Steve Wariner, John Rich, Oak Ridge Boys, Bill Anderson, David Ball, Bryan White, Doug Stone, Lee Greenwood, Collin Raye and many others.  www.whiskeyandcigarettesshow.com.