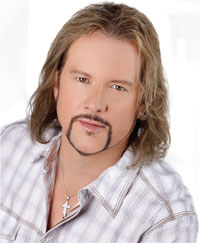 MTS Management Group and Whiskey And Cigarettes Country Radio Show are pleased to announce the airing of DJ Nik Pizzigoni's interview with Inspirational Country Music award winner, Steve Richard. The exclusive interview will air this coming Sunday, September 22, 2013 between 11am ET-3pm ET. Listeners will also have the chance to win one of two Steve Richard prize packs, including a tshirt and 2 cds. The live show airs on Military Brotherhood Radio at http://www.militarybrotherhoodradio.com. Whiskey And Cigarettes is also re-broadcast on 29 syndicating stations, worldwide, multiple times throughout the week.
Steve Richard was named the Inspirational Country Music "New Artist of the Year" in 2009 and since receiving the award, has been nominated for "Entertainer of the Year," "Male Vocalist of the Year" and many more. Most recently, the video for his song "Love's Gotta Go Somewhere" took home the award for "Video of the Year" at the ICM Awards, beating out mainstream artists including Blake Shelton, Big & Rich, Lauren Alaina, and Martina McBride. This was the first time an independent artist has ever won the award in the show's history!
Whiskey And Cigarettes Radio Show is a weekly show, originating in Milan, Italy, hosted by the "Romeo of the Rodeo" Nik Pizzigoni. The show features a unique blend of classic, current and indie country, trivia, contests, artist spotlights and interviews and Nik's European charm. www.whiskeyandcigarettesshow.com.