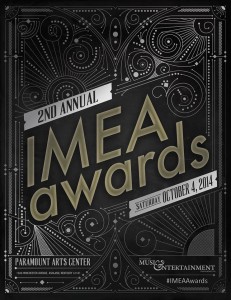 MTS Management Group is happy to announce Jiggley Jones and Ed Roman will perform during the International Music and Entertainment Association's (IMEA) Awards weekend, in Ashland, KY. 2013 IMEA Songwriter of the Year and three-time 2014 IMEA Award Nominee, Jiggley Jones will perform at the President's Gala on October 3, 2014.  Two-time 2014 IMEA Award Nominee, Ed Roman will perform at the IMEA Awards Ceremony, to be held the following night, October 4, 2014.  Both artists are nominated in the Adult Contemporary genre categories.
The IMEA President's Gala will be held at the Ashland Plaza Hotel, located at 1441 Winchester Avenue in Ashland, from 9pm-midnight.  Tickets can be purchased at the door for $10.  The 2014 IMEA Awards ceremony will take place at the Paramount Arts Center, located at 1300 Winchester Avenue in Ashland.  Tickets for the IMEA Awards can be purchased in advance at http://www.imeaawards.com.
"We are so happy to have two of our nominees performing during the IMEA Awards weekend," said Michael Stover of MTS Management Group. "Jiggley and Ed are two of today's most unique, interesting and talented singer/songwriters on the scene today, and I think everyone is in for a quite an experience, with their performances.  I couldn't be prouder of them, and all of our 2014 nominees.  We've been very honored and blessed this year.  I'm really looking forward to seeing you all in Ashland, KY!"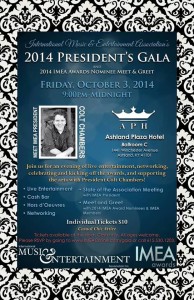 MTS Management Group, MTS Records and their artists have a combined 21 IMEA Awards Nominations, this year.
The International Music and Entertainment Association, Inc. is a non-profit organization dedicated to promoting and serving as an advocate to individuals and organizations within the performing arts and entertainment industries. "Our goal is to promote and recognize new and established artists, bands, musicians, actors, directors, producers, playwrights, composers, songwriters, and filmmakers through performances, showcases, workshops, competitions, conferences, and an annual awards program." For more information, visit http://www.imeaonline.com.
Lamon Records Nashville recording artist, Jiggley Jones is a 2013 IMEA Award Winner (Songwriter of the Year,) 2014 New Music Award Nominee, 2014 AMG Heritage Award Nominee, and a 2014 Independent Country Music Association Award Nominee. His current EP release, ..A Mountain, A Struggle, A Tunnel, A Light… reached Top 20 status on the national roots music charts, while earning critical praise.  For more information, visit http://www.jiggleyjones.com.
Canadian indie rock singer/songwriter, Ed Roman is based in Shelburne, Ontario.  He is a 2014 AMG Heritage Awards Nominee and a 2014 Artists In Music Awards Nominee. Ed's album, Letters From High Latitudes received airplay on more than 100 stations across North America, while earning critical acclaim.  For more information, visit http://www.edroman.net.