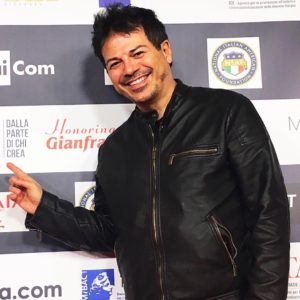 Young, talented Italian composer, Dom Capuano, known for writing and producing multi-award winning dance-pop hits and scoring Hollywood films, continues to push forward with his career. Dom has just signed on to score a new film starring Lou Ferrigno ("The Hulk") and Ian Lauer. Enter the Fire is being directed by Phil Gorn.
Enter The Fire is the story of JAKE BOLT, who wins a championship street fight. The only problem is his mafia boss (Lou Ferrigno) had instructed him to lose. Going on the run, Bolt visits his estranged foster brother, HENRY, in San Francisco. Henry reluctantly takes him in but finds their old feud is far from extinguished. Then Bolt falls for SONYA – Henry's ex-girlfriend. As the mafia closes in, Bolt, Henry and Sonya must band together to fend off the mafia – while trying not to kill each other in the process.
Dom recently added a SONY Pictures release to his resume, with the movie, Richard The Lionheart: Rebellion, directed by Stefano Milla and released by SONY Pictures on June 2, 2017. We know Dom Capuano for his past participation as a producer-songwriter for various successful artists, like Italian dance-pop artist, Eiffel 65, who had a multi-platinum album "Europop," which includes the hit, "Blue (Da Ba Dee)." This diverse music background generated a unique hybrid style of electronic and orchestra, like famous composers Hans Zimmer and Tom Holkenborg (JunkieXL). 
The talented composer is now being taken seriously in his own right, within the industry, working on film scores, TV shows, advertisements and new dance-pop songs. Check out updates about Enter the Fire at Dom's website: www.domcapuano.com.