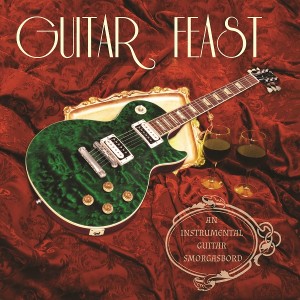 Sep. 1, 2013 – PITTSBURGH — MTS Management Group and Xander Demos are happy to announce the completion and release of "Guitar Feast." The compilation features 15 guitar-oriented tracks from some of today's most talented players from around the world, with an eclectic blend of styles. In addition to Xander's "Chase The Sun," the project includes tracks from producer and project compiler, Paul Tauterouff; Derek Buddemeyer; Magic Elf guitarist, Carl Roa; Paul Kleff; Nick Layton; George Engelbrecht; Lou Lombardi; and others. The album is available for purchase from each artist and on Xander's page at http://www.xanderdemos.bigcartel.com.
"Chase The Sun" originally appeared on Xander Demos' debut album on Rock 'N' Growl Records, "Guitarcadia." Players on the track include Chris Batton (drums,) Adam Heusey (keyboards,) and Matt Williams (bass.) The track was mixed by Cj Snare of Firehouse.
Xander Demos is a metal guitarist based in Pittsburgh, PA. In addition to fronting his own band, Xander is a guitarist for James Rivera's Sabbath Judas Sabbath, as well as James' solo band. Xander is endorsed with Suhr, Carvin and McNaught guitars, who crafted the first Xander Demos signature guitar model, XD727. He has appeared on releases from Modern Superstar, Liberty 'n' Justice and Ged Rylands' Rage of Angels. He will be on tour at major festivals this fall. For more information, visit http://www.xanderdemos.com.