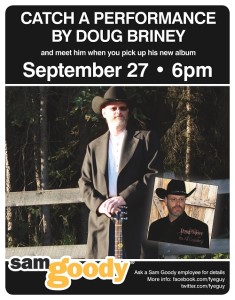 Country music recording artist, Doug Briney will be appearing live at Sam Goody in Cookeville, Tennessee, on Friday, September 27, 2013 at 6pm local time. The appearance is in promotion of the recent physical release of Doug's first album, "It's All Country," by Dynasty Records. Sam Goody is located at 756 S Jefferson Ave., Cookeville, TN 38501. Their phone number is (931) 520-1393.
Doug will be performing acoustic versions of songs from "It's All Country," as well as songs from his upcoming second release, "Super Country Cowboy." He will also doing a meet-and-greet with fans, following the performance.
"I'm looking forward to performing some of these great songs in an intimate setting like this," said Doug. "It's always fun getting to talk to the fans and find out exactly what they like about the music I'm doing. It's because of them, that I can do what I do. This is going to be a great time!"
Doug Briney is a 2013 Independent Country Music Association Award Winner. His album, "It's All Country" spent 8 months on the Roots Music Report True Country chart. He is currently signed with Tate Music Group, who will release his second album, "Super Country Cowboy" this fall. For more information, visit http://www.dougbriney.com.