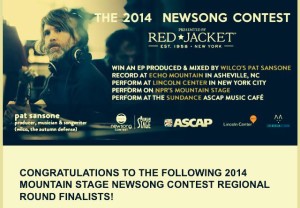 MTS Management Group is happy to announce Bradford Loomis and Beth Whitney have been selected as Regional Finalists in the 2014 Mountain Stage NewSong Contest. The Americana singer/songwriter duo was chosen among 10 finalists from the West Region. Their critically acclaimed debut album, The Banner Days was released in August, and reached the itunes New Alternative Releases chart.
Videos from each regional finalist will appear on the NewSong Contest site as part of the "People's Choice" popular vote award.  Judges will select one winner from each region, who will then advance to the live performance showcase and competition finals on Saturday, November 15 at New York's Lincoln Center for the Performing Arts. Additionally, the regional finalist who receives the most votes for his or her video will also advance to perform at Lincoln Center as the NewSong Contest's "People's Choice" award winner.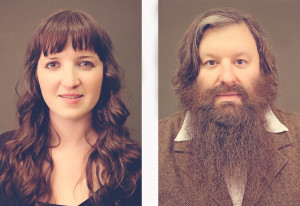 "We are so excited to have our song considered for this amazing opportunity! What an honor. Writing this album, recording it working with so many amazing people, and having seen such humbling support from our fans, supporters, the team at MTS Records, it's been extremely encouraging. We are very thankful and excited!" – Bradford and Beth
Now in its 13th year, the NewSong Contest is one of the premier showcases of emerging performers and songwriters in North America. Twelve finalists will be selected to perform and compete in the live performance showcase and competition at New York's Lincoln Center for the Performing Arts on Saturday, November 15, 2014. There, one grand prize winner will be awarded an EP produced and mixed by Pat Sansone (Wilco, The Autumn Defense) and recorded at Echo Mountain Recording Studios in Asheville, NC.  For more information, visit http://www.newsong-music.com/#sthash.Hxji2juZ.dpuf.
The duo of Bradford Loomis (guitar, vocals) and Beth Whitney (ukelele, vocals) began as a casual co-writing experiment.  From the first time they played together, along with Beth's husband/collaborator, Aaron Fishburn, the chemistry has been powerful. The combination of Beth's delicate, pure, and melodious voice and Bradford's soulful, growling tone makes for a beautifully heart wrenching harmonious blend. With equal parts sweetly anthemic, pop tinged folk, provided by Beth, and Bradford's gritty, passionate Americana Roots sound, The Banner Days is an intrepid step for both artists.  For more information, visit http://www.thebannerdays.com.