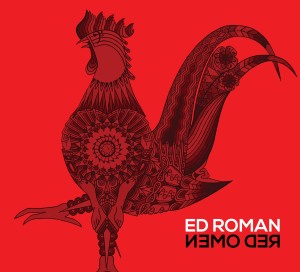 Ed Roman's career is one of diversity, awards and recognition, starting in the early 80s in Canada, it is surely a consummated and respected one. As an artist, he is an eclectic and experimental one, his music stands out for its carefully layered elements and fusions, like a mix and match of styles, but a thoroughly worked and arranged one. Now, in his latest endeavor as a solo artist, he presents "Red Omen", a 13-track album that more than just an array of songs, feels like a picturesque journey, full of earthy sounds and relaxing melodies.
Red omen is the opening song from the album and from the get go, the journey begins, full of fun and quirky lyrics that almost feel random but actually fall very well within the warm and uplifting instrumental. Then Tough Cookie comes through, cheeky and effortless, surely even more upbeat live. It shows the personality of Roman very well and feels like a breeze.
Next is I Wish the wolfman was back, which is a most definitely catchy and rock-infused gift for the ears, it is arguably the most likely to keep you humming along and perhaps the most accessible from the album, even though the album itself is very easy to pleasantly enjoy.
I Am Love is a ragged-in-a-good–way defiant tune, with spot-on lyrics and percussions that stand out and little elements here and there that add, not only depth but detail and personality to a song that's already very full of it. Nothing too pretentious, just a straight forward, fun and encouraging message with bouncy sounds and playful vocals to go along with. This song is also given an extended mix at the end of the album that is well worth it to lift your spirits and accompany you through life.
The way she goes is an exceptional acoustic song that could be called folk on its own within the range of musical styles and fusions that Roman goes through in the album, it's beautifully crafted by itself and the perfect companion to Think I'm just a fool, one that will surely paint a picture in your head of a relaxing place or a very pleasant memory. The way he layers the strings and uses them to create complimenting sounds without a sense of overwhelming instruments speaks for itself. It's a relaxed, yet well-worked-on song that leaves you wanting to play it during a particularly happy ride to a sunny and comfortable place.
Time itself is a strange piece, it will make you feel like it's familiar but unique at the same time, it feels slightly messy within its own experimental production but It's a matter of an aquired taste. The elements are very denotative as everything ties up with the concept of time, quite literally.
Clone the sheep is a statement to the capacity of diversifying sounds that Roman is very clear to have, it's loud and punk. The very stand out in regards of style within the album.
ETA is a song, so beautifully crafted it feels like it should be part of something very big, such as a scene in a motion picture. It has that storyteller quality not all music manages to get even after being worked for a long time. It feels classical in a way that connects you to a mental scenery without asking for your permission.
Nothing more to say is a very simple on the percussions and bass song that relies on Roman's unique vocals followed by Lay one down, a very light-hearted and dreamy tune that continues contrasts a bit from the rest, and a very good place in the album to wind down. Don't get too cozy though, because I want to be free will make you move wherever you are. You will find it very unlike the rest of the songs and it might clash with the whole vibe but is that bad? After all this is a very diverse album made to take you different places, and it does, successfully.
What Ed Roman intended for this album, which was surely to make you move, make you rock, make you relax… it accomplishes it all. It is well produced, well written, the fusions are unexpected and you're always on the edge of your seat without knowing what will come next. This is an album that's a reflection of an artist and all of his faces, places and messages.
Laura Pérez
Music and Band Reviews