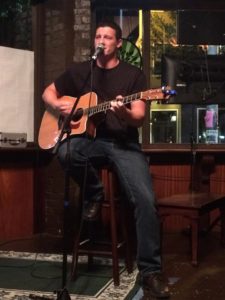 Phillip Broussard has a passion for easy listening and blues music. He first picked up a guitar at the age of 15 and hasn't gone a day without out playing since. Local to the Kitsap, WA area, he joined the Navy out of High School and spent several years deploying in support of Operation Enduring Freedom and Operation Iraqi Freedom. A rabid fan of John Mayer, his style closely emulates the blues and acoustic infusion that his guitar Idol exuded in the mid 2000's.
Phillip took time out before a Seattle performance to talk with us about his burgeoning career and upcoming plans…
MTS: Thanks for taking the time to talk with me, Phillip! You are originally from Kitsap, WA…how do you feel being from the Pacific northwest has influenced your music?
Phillip Broussard: My pleasure! I feel like the Pacific Northwest has a funny way of influencing us without us feeling like we're being influenced. Aside from the natural beauty that surrounds us in this region, we're also limited by weather so I tend to tailor my activities to those that kept me dry. Songwriting was one of them.
MTS: Why guitar? Have you ever played any other instrument?
PB: My father brought home a guitar and I found it in the back of his car. He caught me plucking some of the strings and I'll never forget the feeling that I felt when I picked it up for the first time. I remember saying to myself "This is my instrument."
MTS: Thank you for your service to our country during your tours in Iraq. Did you have the opportunity to play guitar while overseas? Is there alot of downtime that allows you to be able to write songs while serving? Has your military service influenced your music?
PB: There is downtime that allows you to write music. However, I wouldn't say that the military itself influenced any music. However, people I met while serving had a profound impact on my music. One of my bestfriends in the military gave me a John Mayer album and I was hooked.
MTS: You're a big fan of John Mayer's. What do you like about his playing, and what is your favorite song of his?
PB: John Mayer is a Guitar God. He is an absolute master guitar player. His playing style is admired by some of the best players that have ever lived and he writes from the heart. My favorite song of his varies by album but overall, "Slow Dancing in a Burning Room" is my favorite song to play. I also feel like there is a John Mayer song to fit every walk of life.
MTS: Besides John Mayer, who else has influenced your playing?
PB: I really enjoy Jason Mraz and Jack Johnson. Although, there are days when you'll catch me listening to Pink Floyd or Stevie Ray Vaughn. I'm also a fan of Stevie Wonder.
MTS: Do you have any recorded projects? If so, tell me about them. If not, are there any plans to record?
PB: I do have a project in the works. A six song EP that will be released next month. Currently three songs have been released and the rest will land when the whole EP is finished.
MTS: What is most important to you: music sales, critical acclaim, or industry awards?
PB: When I first started out, my whole goal was just to make music that people enjoyed. That is still the goal but with all three of the above mixed in.
MTS: What's in the future for Phillip Broussard? What are your plans for your music in the next few years?
PB: Only time can really tell but I would like to be opening for a national act within the next year and headlining my own shows within a year after that.
MTS: If you could have one dream accomplishment in music, what would that be?
PB: My ultimate goal is to headline at the Gorge Amphitheatre in Eastern Washington in front of 15k people.
MTS: Where can fans learn more about you, and hear your music?
PB: I have three songs on Sound Cloud and Spotify. I also have a page on Facebook that is used to promote upcoming shows. I personally respond to messages on Facebook as well so if anyone wants to reach out, I'm always happy to schmooze.
MTS: What does Phillip Broussard like to do outside of music, and if I were to come over for dinner, what would you serve?.
PB: I'm a bit of a workaholic so there's a high likelihood you'll find me working outside of music. Dinner would depend on your dietary requirements and restrictions but I love to cook a good Rib-eye Steak with potatoes. Cooking is also something I love to do as well.
Thanks so much, Phillip! Good luck to you on achieving your goals. Can't wait to hear more music! Find out more about Phillip Broussard at…
www.facebook.com/phillipbroussard86/
https://soundcloud.com/phillip-broussard
https://www.youtube.com/user/PhillipBroussard