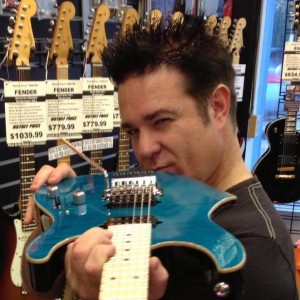 MTS Management Group is pleased to announce Xander Demos (XDB, Sabbath Judas Sabbath) has topped the CMG Radio Top 20 Rock Chart for weekending August 15, 2014. Xander's single, "Dancing Through Daggers" (Shark Nest/MTS Records) comes in ahead of tracks by Arcade Fire (#6, "Reflektor") and Arctic Monkeys (#4, "Do I Wanna Know.") "Dancing Through Daggers" will appear on the forthcoming XDB album of the same name, due out this fall.  Xander's track from his debut album, Guitarcadia, "Under A Darkened Sky" is also in the Top 20, at #18.  To view the entire chart, please visit http://cmgglobalradio.com/cmgglobalnetworkcharts/rock.html.
"We'd like to thank the fans for being so good to Xander, over the past couple of years," said Michael Stover of MTS Management Group, Xander's manager.  "We've been really blown away by the support they've shown, from requests to online voting, to ticket sales.  We'd also like to thank CMG for all they do to promote our artists, on a worldwide airplay level.  This is quite an honor, and a first for Xander and XDB."
The CMG Radio Network is part of Cramer Multi Media Group. They own and operate 350 network online radio stations, playing the best of indie music of all genres, with an emphasis on their CMG Radio Club Members. They also host syndicated programming throughout the week. For more information, visit http://www.cmgradio.info.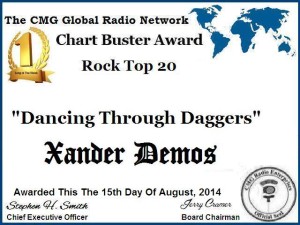 Xander Demos is a metal guitarist, who has recorded and performed with James Rivera's Sabbath Judas Sabbath, Ged Rylands' Rage of Angels, Liberty 'N' Justice, Modern Superstar, James Rivera's solo band, and others. Endorsed with Suhr, McNaught, Conklin and Brian Moore guitars, Xander is also a perennial performer at NAMM Metal Jam with some of the biggest names in metal. Xander will appear in the upcoming metal movie, Hair I Go Again. XDB–Xander with Jeff Anzelone, (drums) Mario Brescia, (vocals) H. Dan Bozym, (bass) and Jeff Morris (keys, vocals)–has performed at Skull Fest, Wolf Fest, and Rock Harvest II, and other notable metal events. Xander was recently nominated for three 2014 International Music and Entertainment Association Awards.  For more information, http://www.xanderdemos.com.