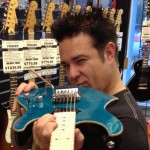 Metal guitar virtuoso, Xander Demos and his band, XDB, will perform at the Bands In Blue benefit concert, to benefit the Officer Kotecki Scholarship Fund. The concert will be held Saturday, August 24, 2013 at the Hillcrest Country Club, 3411 Leechburg Rd., Lower Burrell, PA 15068. The event begins at 4pm, with XDB performing at 7:30pm. Tickets are $10 for adults. Children 12 and under are free. Lawn and pavilion seating is available. Food and beverages will also be available. Other bands performing include No Assembly Required and Sour Mash. DJ Kevin will also provide additional music.

"I'm very honored and humbled to be able to perform for this, and any benefit show," said Xander. "I've gotten so much support from the fans over the years, that I feel like it's my duty to give back, you know? I've done the Rock For Life events and my animal charity stuff, and I've also got Rock Harvest II coming up, which is another police benefit in Maryland. Those men and women go out there and put their lives on the line to protect us every day, and it was tragic what happened to Officer Kotecki. I hope that his event will bring more attention to, and raise alot of money for his scholarship fund."
Officer Derek Kotecki was killed in the line of duty, in 2011, while investigating reports of a wanted man at a local fast food restaurant. He had served the Lower Burrell police department for 18 years. He was survived by his wife and two children.
Xander Demos is a metal guitarist from Pittsburgh, PA, who has appeared on releases from Liberty N Justice, Ged Rylands' Rage of Angels, Modern Superstar, and he will be on the upcoming "Guitar Wizards" compilation from Versailles Records, alongside Jake E. Lee, George Lynch and others. He plays guitar for James Rivera (Helstar, Malice) as well as his own solo band, XDB.