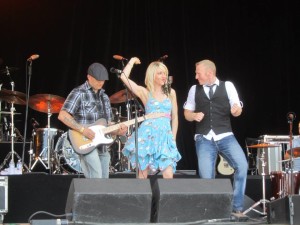 On Saturday, August 17th, Canadian country trio, WESTERN AVENUE and their back-up band performed at the Havelock Country Jamboree, in front of approximately 15,000 country music fans in attendance that day. Western Avenue kicked off Saturday's lineup, which included sets by superstars, Reba McEntire and Trace Adkins, as well as Josh Thompson, BR549, Bobby Wills, Dallas Smith and Jaida Dreyer. The four day event, which is billed as "Canada's Largest Live Outdoor Music And Camping Festival" also featured performances by Kix Brooks, Charlie Daniels Band, Wynonna Judd with The Big Noise and more.

Matt Williams from Western Avenue summed up the band's sentiments about the show: "Wow…what can we say! We had the time of our life playing the Havelock Jamboree on Saturday. Was soo great to connect with our fans & make some new friends in the process. Thanks to the staff & crew for your help throughout the day & thanks everyone for rockin' out with us. Our day started out around 9am when we all met to be escorted into the Backstage area. From there the staff & volunteers took over making sure we were well taken care of. There were a lot of emotions leading up to our performance (believe the 3 of us only got a combined 5 hours sleep the night before…haha). One of the really amazing things was looking down in the front row & seeing soo many familiar faces when we hit the stage. I personally was ecstatic about the fact that we got to share our moment on stage with our friends, family & fans that have been there for us since Day 1. Was a moment we'll never forget & we'll hopefully see you again at the Jamboree! We love you guys! – MATT"
Western Avenue is: Nikki English (Robertson,) (vocals;) Keith Robertson, (guitar, vocals;) and Matt Williams (guitar, vocals.) Their debut self-titled album was released to critical acclaim, earlier this year. They are releasing their first US and worldwide single, "Wherever You Are" on September 3rd. For interview requests, contact michael@mtsmanagementgroup.com.