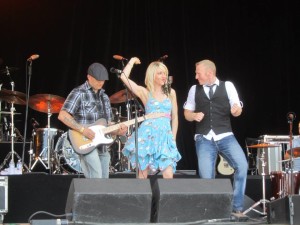 MTS Management Group and Whiskey And Cigarettes Radio Show are pleased to announce the airing of DJ Nik Pizzigoni's interview with Western Avenue's Matt Williams. The exclusive interview with the Country Music Assocation of Ontario award winner will debut on the Whiskey And Cigarettes show this Sunday, September 1, 2013, just two days ahead of the release of the band's debut US single, "Wherever You Are." Listeners will also have the chance to win a signed Western Avenue CD. The live show airs from 11am ET-3pm ET on Military Brotherhood Radio at http://www.militarybrotherhoodradio.com. Whiskey And Cigarettes is also re-broadcast on more than 25 syndicating stations, worldwide, multiple times throughout the week.
Western Avenue is a Canadian country trio, based in Peterborough, Ontario. Members are Nikki English (vocals,) Keith Robertson (vocals, guitars,) and Matt Williams (vocals, guitars.) Their self-titled debut album was released in early 2013. They recently performed at the Havelock Country Jamboree. For more information, visit www.westernavenue.ca.
Whiskey And Cigarettes Radio Show is a weekly show, originating in Milan, Italy, hosted by the "Casey Kasem of Country Music" Nik Pizzigoni. The show features a unique blend of classic, current and indie country, trivia, contests, artist spotlights and interviews and Nik's European charm. www.whiskeyandcigarettesshow.com.